The Worst of Times: A Story of the Great Depression (Paperback)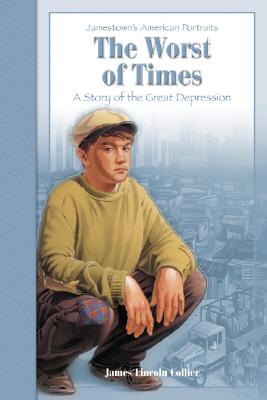 $4.95

Special Order—Subject to Availability
Description
---
When the Depression strikes America, throwing milions out of work, 12-year-old Petey Williamson's family seems safe. Hadn't the boss promised Petey's father that he'd always have a job? But during the Depression, promises cannot always be kept, and Petey finds his family sliding rapidly into poverty. When Petey's much-admired cousin Steve starts working as a union organizer in the battle to improve conditions for workers, poverty turns into tragedy.
Jamestown's American Portraits explores the growth of different generations and cultures through the lives of young boys and girls. These titles are told from a diverse group of boys and girls, coming from different and unique backgrounds that represent America's own diverse population, spanning from the Jamestown Settlement to the Civil Rights Movement.
Titles in this series:

• This Generation of Americans: A Story of the Civil Rights Movement, by Fredrick L. McKissack, Jr.

• The Road to Freedom: A Story of the Reconstruction, by Jabari Asim

• All For Texas: A Story of Texas Liberation, by G. Clifton Wisler

• The Worst of Times: A Story of the Great Depression, by James Lincoln Collier

• Wind on the River: A Story of the Civil War, by Laurie Lawlor

• When I Dream of Heaven: Angelina's Story, by Steven Kroll (1895 Italian Immigrant in NYC)

• An Eye for an Eye: A Story of the Revolutionary War, by Peter and Connie Roop

• Sweet America: An Immigrant's Story, by Steven Kroll

• The Corn Raid: A Story of the Jamestown Settlement, by James Lincoln Collier

• Revenge of the Aztecs: A Story of 1920s Hollywood, by Susan Beth Pfeffer

• To Touch the Stars: A Story of World War II, by Karen Zeinert