The Greatest Dinosaur Ever (Hardcover)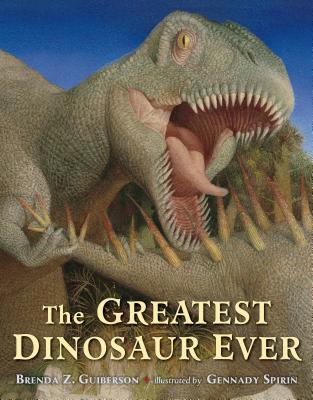 $18.99

Special Order—Subject to Availability
Description
---
Which dinosaur was the greatest? Was it the tallest, the biggest, the strongest, the smartest, the weirdest, the fastest, or the smallest? Or was it the oldest bird, the best parent, the one with the best night vision, the best armor, or the longest tail spikes? In this picture book from Brenda Z. Guiberson, fascinating facts and spectacular illustrations will inspire young readers to choose their own favorite dinosaurs!
About the Author
---
Brenda Z. Guiberson has written many books for children, including Cactus Hotel, Spoonbill Swamp, Moon Bear and Disasters. As a child, Brenda never thought she wanted to be a writer—her dreams tended more toward jungle explorer. She graduated from the University of Washington with degrees in English and Fine Art. She started thinking about writing for children when her son went to elementary school, and she volunteered in his class and in the school library. After taking exciting trips that involved a fifty-foot cactus, hungry alligators and sunset-colored spoonbills, she wanted to create books for children that would be like a field trip. Her books are full of well-researched detail, and Brenda sees this research as an adventure—one that allows her to be a jungle explorer at last. She lives in Seattle, Washington.

Gennady Spirin was born on Christmas Day in 1948 in a small town near Moscow. He is a graduate of the Stroganov Academy of Fine Arts in Moscow and has received many awards for his work both in the United States and internationally. Books he has illustrated include The Most Amazing Creature in the Sea, Life in the Boreal Forest, Frog Song, The Deadliest Creature in the World, and The Greatest Dinosaur Ever. Mr. Spirin lives in Princeton, New Jersey, with his wife and three sons.
Praise For…
---
"From the writer and illustrator of Life in the Boreal Forest (2009) and Frog Song (2013), here's another handsome book for the science shelves." —Booklist

"*Whether read aloud or pored over individually, this book is sure to please anyone who has ever wondered about dinosaurs." —School Library Journal, starred review

"*Guiberson speaks of frog voices as a beacon. . . . Spirin's paintings make this a book to treasure." —Publishers Weekly, starred review on Frog Song

"This nonfiction book shows why the boreal forest, home to a unique ecosystem of plants and animals, is as big and important as tropical rain forests." —USA Today on Life in the Boreal Forest

"Gorgeously intricate illustrations perfectly complement equally evocative text in this introduction to the great northern, or boreal, forest, which sprawls across the entire northern hemisphere. . . . Guiberson and Spirin manage to successfully convey the beauty and majesty of this forest and its denizens in two dimensions, and a list of organizations devoted to preserving the forest provides further information. An author's note adds urgency to the message about the importance of preservation." —Booklist, starred review on Life in the Boreal Forest

"Taking readers through the seasons, Guiberson and Spirin present a verbal and pictorial treasury for nature lovers and young researchers alike." —School Library Journal on Life in the Boreal Forest

"Beautiful and useful." —Kirkus Reviews on Life in the Boreal Forest

"Each of the stunning paintings in this catalog of the boreal forest, the great northern forest, is breathtakingly beautiful. They are in the style of Audubon and other great naturalist painters. They breathe life into the creatures, give texture to their fur and feathers and capture a sense of place." —The Oppenheim Toy Portfolio on Life in the Boreal Forest