Language Beyond Postmodernism: Saying and Thinking in Gendlin Philosophy (Studies in Phenomenology and Existential Philosophy) (Paperback)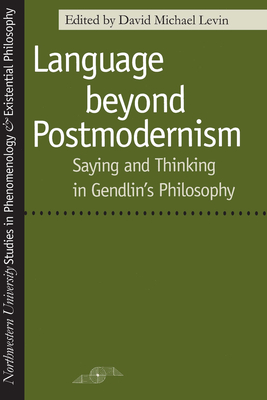 $39.95

Special Order—Subject to Availability
Description
---
Eugene Gendlin's contribution to the theory of language is the focus of this collection of essays edited by David Michael Levin. This compilation of critical studies—each followed by a comment from Gendlin himself—investigates how concepts grow out of experience, and explores relations between Gendlin's philosophy of language and experience and the philosophies of Wittgenstein, Dilthey, and Heidegger.
About the Author
---
EUGENE T. GENDLIN is a professor of psychology at the University of Chicago. For many years he was the editor of Psycho-therapy: Theory, Research, and Practice. In 1970, because of his development of experiential psychology, he was chosen by the Psychotherapy Division of the American Psychological Association for their first Distinguished Professional Psychologist of the Year award.
DAVID KLEINBERG-LEVIN taught in the Humanities Department at MIT from 1968 until 1972, when he joined the Department of Philosophy at Northwestern. The heart of his work is disclosive hermeneutical phenomenology, which he brings to bear in innovative ways on questions and problems in aesthetics, clinical psychology, moral philosophy, and critical social theory. He is the author of Gestures of Ethical Life: Hölderlin's Question of Measure after Heidegger.
Praise For…
---
"Eugene Gendlin's heightened sensitivity to language as a creative event of discourse on the hither side of sedimented theories of linguistics is unique both among his predecessors and his contemporaries. It is thus that the critical essays in the current volume, addressing various facets of Gendlin's consummate contribution to the philosophy of language, provide a valuable resource for all practitioners of the discipline." —Calvin O. Schrag, Purdue University