Not Exactly The Three Musketeers (Mass Market Paperback)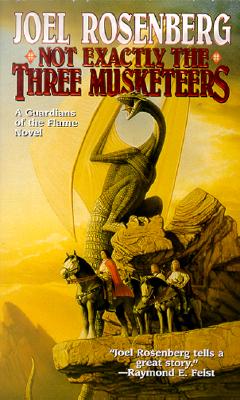 $6.99
Special Order—Subject to Availability
Description
---
Kethol--The pretty fellow, a long and lanky redhead with an easy smile and an easygoing attitude that his clever eyes deny. He is quick with a quick...and quicker with a sword.

Durine--The big man, a head taller than most and twice as wide, built like a barrel, with a loyal heart and hands too thick to use anything more delicate than an ax handle.

Pirojil--The ugly one, his face heavy-jawed, with an eye ridge that would mark him as a Neanderthal only to the most gracious. But looks deceive, and his might be the rarest gift of all.

Athos, Porthos, and Aramis they're not.
About the Author
---
Joel Rosenberg is the author of the best-selling "Guardians of the Flame" books as well as the "D'Shai" and "Keepers of the Hidden Ways" series. He resides in Minneapolis, Minnesota. Home Front is the first in his Ernest "Sparky" Hemingway mysteries, a delightful new series with a wonderfully quirky character set in the land of the Cohen Brothers' "Fargo."
Praise For…
---
"Picaresque."--Kirkus Reviews

"A rollicking saga of swordmanship and intrigue, spiced up with dragons, damsels, and droll wizards."--SF site