Hope of Earth (Mass Market Paperback)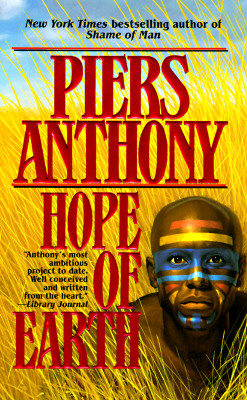 $6.99
Special Order—Subject to Availability
Description
---
In Isle of Woman and Shame of Man, the firs two volumes of the monumental Geodyssey saga, bestselling author Piers Anthony chronicles the triumphs and tragedies of two remarkable families reborn again and again in some of the most turbulent eras of human history.

Now, with Hope of Earth, Anthony brings us a stirring epic that ranges from our ancient beginnings in Africa's Great Rift Valley to the windswept Andes a century from now, and includes some of history's most fascinating figures--the mysterious "Ice Man" of the Swiss Alps, the decadent King Herod, the British Warrior Queen Boudica, the Mongol Chieftan Tamurlane, and King Louis XIV of France.

Exciting, imaginative, and inspiring, Hope of Earth is the story of a group of heroic men and women, bound by ties of passion, honor, and blood, who struggle to transcend our violent past and forge and new and shinning future.
About the Author
---
Piers Anthony is one of the world's most popular fantasy authors, and a "New York Times" bestseller twenty-one times over. His Xanth novels have been read and loved by millions of readers around the world, and he daily receives hundreds of letters from his devoted fans.

In addition to the Xanth series, Anthony is the author of many other best-selling works. Piers Anthony lives in Inverness, Florida.
Praise For…
---
"Anthony's most ambitious project to date. Well conceived and written from the heart."--Library Journal