Glaciers Melt & Mountains Smoke (Paperback)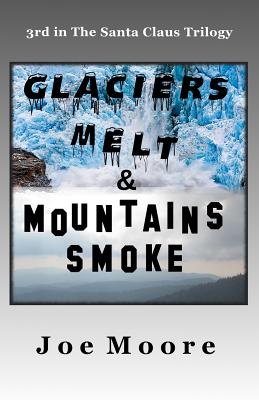 $19.95
Not On Our Shelves—Ships in 1-5 Days
Description
---
Calamity Disaster Santa Claus' beloved world is crashing down around him. The North Pole is melting, and the buildings of his magical workshop are punching through the last remnants of ice, plunging into the Arctic Ocean. Santa has to save the operation and its inhabitants, including his wife and sons.
Making things worse, Santa faces a cyber bullying attack, and he must deal with this at the same time as moving the North Pole Workshops. Santa will need all his elves, family, and people he has helped before to help him accomplish everything in time. But can he do it before this disaster swallows the village?
Discussions with the Author
What is The Santa Claus Trilogy?
The SC Trilogy is a three-part series that is a family read for everyone from preteen kids reading chapter books to the eldest great grand-parent. It answers a great many mysteries and legends about Santa Claus while entertaining the reader with imaginative fantasies and real events of the world.
Is this book only about Christmas?
Glaciers Melt takes place well before the holidays of Christmas. Much of the action takes place in spring and summer before all is lost. And if Santa is going to continue his work, everything needs to be in place before Christmas comes again.
What is the order of the books?
Believe Again, The North Pole Chronicles is the first book in the series.
Faith, Hope & Reindeer is the second in the series.
Glaciers Melt and Mountains Smoke is the third in the series.
Also related:
The Faces of Krampus, which is the story of Black Peter, the assistant to St. Nicholas.
Aeon Millennium, The Time-Traveling Elf, is set to be released in Fall, 2018.
Can readers get the whole series in one bundle?
You may purchase The Santa Claus Trilogy as a collection containing all three books in the box set.
So, why should readers give these books a try?
Santa and the North Pole Village now face becoming the next Atlantis and disappearing into the sea. Somehow the residents and animals of the polar ice cap must relocate before everything is lost. But move to where, and how? After several hundred years where can they retreat and find the peace and secrecy they had for centuries? Imagination and wonder are hallmarks of an intelligent mind, and this book is a fertile ground to plant these qualities. The third book in The Santa Claus Trilogy brings all the elements of the first two books and shows what is achievable when everyone works together. This book is a great addition for teachers and homeschooling, especially as it addresses cyber bullying.