Little Library Mouse (Hollywood Book Festival Award Winner) (Paperback)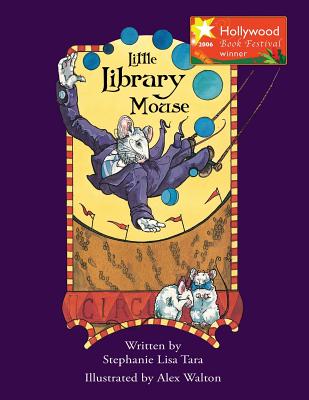 $15.95

Not On Our Shelves—Ships in 1-5 Days
(This book cannot be returned.)
Description
---
" A]h--libraries Remember them? As kids, they were magical spaces...today, even in this hectic tech world, Ms. Tara lulls us inside once again..."--New York Times
" I]s there anything more precious than a literary mouse?..." --NPR
" This book about books is a coffee table book itself...breathtaking illustrations live on every page..." --People
" A]lex Walton's illustrations recall Arthur Rackham perfection...Tara's verse is a lovely companion..." --San Francisco Chronicle
" C]alling all kids Magic lives in the library On a sentence you will sail..." --Los Angeles Times
" M]agical...literary...whiskered....we love Little Library Mouse " --Children's Library Discovery Center, Queens NY
" E]ven when you are little, you can imagine big...yep, we are hooked...turn the page..." --Brentwood Library, Brentwood TN
" I]'m alone, I pause, the clock goes tick-tock...my library darkens, is that the key in the lock?" --Vancouver Community Library, Vancouver, WA
" W]e read Little Library Mouse every Saturday morning at story hour...it never fails to win smiles " --Laramie County Library, Cheyenne, WY
" W]here do we begin? The verse has our kids on their feet clapping, the stunning illustrations have them enchanted. A celebrations of story genres, books, libraries. This librarian gives Little Library Mouse an A+ " --ImaginOn: The Joe and Joan Martin Center, Charlotte, NC
" L]ittle Library Mouse is the most checked-out book in our children's department, and has been for many years..." --Cerritos Millennium Library, Cerritos, CA
" S]lipping and sliding down the pages of books...may it ever be so.... " --Birmingham Public Library Birmingham, Alabama
" T]here is nothing more precious, than mice in the library reading books..." --Brentwood Library Brentwood, CA.
About the Author
---
Stephanie Lisa Tara founded a publishing company that empowers kids to care about the planet, themselves and each other. Her creed is activism, inspiring the next generation to make the world a better place. Adults love her books because they help explain 'stuff' in gentle, giggly ways. Kids love her books because they are super fun to read. Who is Stephanie? A San Francisco mom with a great big heart. As a child she had bright red hair, a little too bright in fact. Being different got Stephanie thinking...our differences are the celebration! Whether scaly, feathered, furry, or human-skinned; we all call Earth home. Lyrical prose that dances on our tongue, breathtaking watercolors that illume our imaginations...these are the hallmarks of Stephanie's work. PRESERVE. CONSERVE. INSPIRE. TEACH. We've only one planet to save. Stephanie Lisa Tara Children's Books(R)