Battle of the Bulge [The Young Readers Adaptation] (Paperback)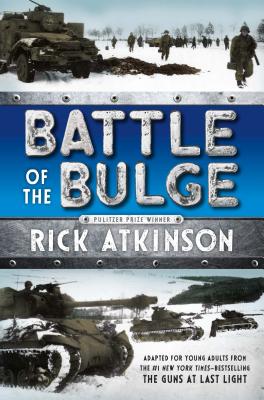 Description
---
December 16, 1944. In the frozen forests of the Ardennes, a surprise attack by the German army on American Allied forces launched the long, hard slog that was the Battle of the Bulge. Sir Winston Churchill called it "the greatest American battle of the war and . . . an ever-famous American victory."
In clear and accessible prose, World War II historian, Pulitzer Prize winner, and New York Times-bestselling author Rick Atkinson skillfully navigates the attacks, counterattacks, advances, and retreats of this terrible bloodbath. Whether history buffs or newcomers to the topic, young readers will appreciate the many fascinating facts, photographs, and statistics included in this book, and thrill in this real-life account of victory against all odds.
This thoroughly-researched and documented book can be worked into multiple aspects of the common core curriculum.
About the Author
---
Rick Atkinson is the bestselling author of An Army at Dawn (winner of the Pulitzer Prize for history), The Day of Battle, The Long Gray Line, In the Company of Soldiers, and Crusade. His many other awards include two Pulitzer Prizes for journalism, the George Polk Award, and the Pritzker Military Library Literature Award. A former staff writer and senior editor at The Washington Post, he lives in Washington, D.C.
Praise For…
---
"You can't just tell kids that history is cool; you have to prove it, and Atkinson does." —Steve Sheinkin, The New York Times Book Review on D-Day
"Atkinson seats readers at the secret meetings of the Allied commanders, ejects them with paratroopers over the foggy French countryside, puts them into landing craft to hear soldiers barf and exclaim, and sends them out to die bloodily on the beaches wracked with enemy fire . . . a grand and historically significant tale told with dash and authority." —Kirkus Reviews on D-Day