The American People: Volume 1: Search for My Heart: A Novel (The American People Series #1) (Paperback)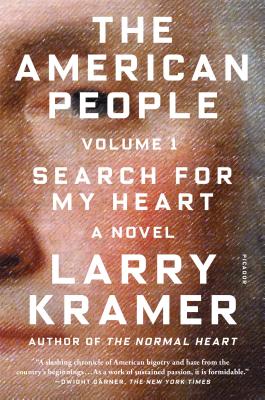 $22.00
Not On Our Shelves—Ships in 1-5 Days
Other Books in Series
This is book number 1 in the The American People Series series.
Description
---
Renowned playwright and author Larry Kramer's stunning work of imagination and courage reimagines American history from John Wilkes Booth to Joseph McCarthy in this long-awaited, devastating satire

Forty years in the making, The American People sets forth Larry Kramer's vision of his homeland. As the founder of ACT UP and the author of Faggots and The Normal Heart, Kramer has decisively affected American lives and letters. Here he reimagines our history. This is the story of one nation under a plague, contaminated by greed, hate, and disease and host to transcendent acts of courage and kindness.

In this first volume, which runs up to the 1950s, we meet prehistoric monkeys who spread a peculiar virus, a Native American shaman whose sexual explorations mutate into occult visions, and early English settlers who establish loving same-sex couples only to fall prey to the forces of bigotry. George Washington and Alexander Hamilton revel in unexpected intimacies, and John Wilkes Booth's motives for assassinating Abraham Lincoln are thoroughly revised. In the twentieth century, the nightmare of history deepens as a religious sect conspires with eugenicists, McCarthyites, and Ivy Leaguers to exterminate homosexuals, and the AIDS virus begins to spread. Against all this, Kramer sets the intimate heartfelt story of a middle-class family outside Washington, D.C., trying to cope with the darkest of times.

The American People is a work of ribald satire, prophetic outrage, and dazzling imagination. It is an encyclopedic indictment, written with outrageous love.
About the Author
---
Larry Kramer (1935-2020) was an award-winning playwright and author, and a celebrated public health and gay rights advocate. He wrote the critically-acclaimed, Tony Award-winning play The Normal Heart (and subsequent Emmy Award-winning HBO television adaptation), the Academy Award–nominated screenplay adaptation of D. H. Lawrence's Women in Love, the bestselling novel Faggots, and the satirical two-volume novel The American People (Search for My Heart and The Brutality of Fact).

A pioneering AIDS activist, he cofounded the Gay Men's Health Crisis in 1982 and founded ACT UP in 1987. Kramer won numerous awards for his plays and received the 2013 PEN/Laura Pels International Foundation for Theater Award for a Master American Dramatist.
Praise For…
---
"The American People is mesmerizing . . . Larry Kramer's writing is so accessible, so human, so personal, so caring, so heartfelt, so courageous and so resonant . . . It's a Swiftian journey through an America we never knew; a Voltairean satire of American life and ways; a literary offspring of Gore Vidal's Lincoln and Myra Brenckenridge; a pornographic American history through the eyes of a Henry Miller; a Robin Cook medical mystery. It's a Sinclairean expose of American industrial and corporate skulduggery, and otherwise breathtakingly testimonial to the art of muckraking. It's a treasure trove of historical findings, especially of the history of sex in America . . . And it's the grandest telling yet of Kramer's own story . . . The American People is likely to find its place among the notable works of the Western canon." —Lawrence D. Mass, The Huffington Post

"A work of sustained passion . . . Formidable." —Dwight Garner, The New York Times

"[Larry Kramer's] magnum opus . . . There are times when the reader will feel like the audience at "Springtime for Hitler." One will also find oneself laughing out loud, thinking hard, and being thrilled that someone has taken on American history from the viewpoint of gay people . . . a roller coaster of a book." —Andrew Holleran, The Advocate

"Immense, sprawling, subversive . . . A protracted display of pyrotechnic virtuosity." —Steve Donoghue, The Washington Post

"Breathtakingly well-written. And how could one not keep reading, no matter how endless, a book with a line such as 'You don't just drop a penis like Tibby's into the narrative and let it go'?" —Kirkus (starred review)

"Wildly inventive . . . [A] formidable and admirable literary experiment . . . It has many brilliant and harrowing passages; it is grotesque and macabre in ways that so many somewhat antiseptic works of conventional American fiction these days won't dare." —Jacob Bacharach, Pittsburgh Post-Gazette

"Kramer is a singular force, furious because he cares. He honestly confronts hard, unspoken truths and goes somewhere with them, which is a rare thing." —T Fleischmann, Publishers Weekly (boxed, signature review)

"Larry Kramer is one of America's most valuable troublemakers. I hope he never lowers his voice." —Susan Sontag

"Larry Kramer has been a prophet of psychic health and catastrophe among us--a prophet unmatched for the accuracy of his omens and the reliability of his anathemas and remedies." —The American Academy of Arts and Letters

"Larry Kramer's magnum opus" —Elissa Schappel, Vanity Fair

"A raunchy, epic revision of U.S. history." —GQ

"A wildly imaginative retelling of American history with homosexuality center stage." —Newsday