Devoted: A Novel (Paperback)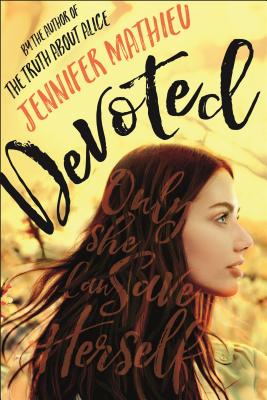 $9.99
Special Order—Subject to Availability
Description
---
A powerful, feminist coming-of-age story from the author of The Truth About Alice
Only she can save herself. . . .
Rachel Walker's family and community have turned away from the world.
Every part of Rachel's life is controlled, from what she reads to where she goes and what she wears.
Her parents dictate how her life must be: marriage, modesty, children, and obedience to her future husband.
But when a former member of her community, a girl who escaped, moves back to her small Texas town, Rachel's world turns upside down.
She realizes that her life is her own—if only she can find the courage to fight for it.
Devoted: A Novel by Jennifer Mathieu is an empowering young adult contemporary novel about self-discovery, by the author of The Truth About Alice, Moxie, and Afterward.

Also by Jennifer Mathieu:
The Truth About Alice: A powerful look at slut-shaming, told through the perspectives of four small-town teens, about how everyone has a motive to bring—and keep—a teen girl down.
Afterward: A tragic kidnapping leads to an unlikely friendship in this novel about finding light in the midst of darkness.
Moxie: An unlikely teenager starts a feminist revolution at a small-town Texas high school.
Praise for Devoted:
An Amelia Bloomer List Top Ten Book
"Jennifer Mathieu put her name on the YA map with last year's heart-wrenching high school bullying novel The Truth About Alice. . . . her sophomore novel is tackling subjects just as difficult: religion and cult, particularly as they relate to young women. Rachel grew up in the Quiverfull movement—one similar to the Duggars' practices on TLC's 19 Kids and Counting—but as she finds herself connecting illicitly to the outside world, she starts to wonder if there's more for her as a woman outside of bearing children." —Bustle
"This thoughtful, character-driven study of one girl's struggle . . . is an exceptionally nuanced treatment." —Booklist, starred review
"An engaging, illuminating, but never sensationalized portrayal of one plucky teen's self-discovery." —Kirkus Reviews
"Makes for riveting reading." —Publisher's Weekly
About the Author
---
Jennifer Mathieu started writing stories when she was in kindergarten and now teaches English to high school students. She won the Teen Choice Debut Author Award at the Children's Choice Book Awards for her first novel, The Truth About Alice. She is also the author of Devoted and Afterward. She lives in Texas with her husband, son, and dog.
Praise For…
---
"Rachel grew up in the Quiverfull movement—one similar to the Duggars' practices on TLC's 19 Kids and Counting—but as she finds herself connecting illicitly to the outside world, she starts to wonder if there's more for her." —Bustle
"This thoughtful, character-driven study of one girl's struggle . . . is an exceptionally nuanced treatment." —Booklist, starred review
"An engaging, illuminating, but never sensationalized portrayal of one plucky teen's self-discovery." —Kirkus Reviews
"Makes for riveting reading." —Publisher's Weekly