Part of It: Comics and Confessions (Paperback)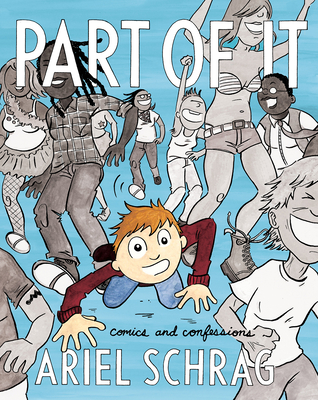 $17.99
Not On Our Shelves—Ships in 1-5 Days
Description
---
Ariel Schrag, a critically-acclaimed memoirist and screenwriter, takes us on a painfully funny tour of her formative years, from her childhood in Berkeley to her mid-twenties in Brooklyn, exploring what it means to connect to others when you don't yet know who you are—when you want to be "part of it" but the "it" changes daily. We meet hippie babysitters, mean girls, best friends, former friends, prom dates, girlfriends, sex ed students, and far too many LensCrafters sales associates.

These frank, irreverent, and honest comics revel in the uncomfortable—occasionally cringe-inducing—moments from our early years that end up wiring us as people. Part of It further cements Ariel Schrag as "one of the best pure storytellers...in any medium" (Comics Journal).
About the Author
---
ARIEL SCHRAG is the author of the novel Adam and the graphic memoirs Awkward, Definition, Potential, and Likewise. Potential was nominated for an Eisner Award and Likewise was nominated for a Lambda Literary Award. Schrag has written for TV series on HBO and Showtime. She lives in Brooklyn, NY.
Praise For…
---
"Do you ever read a book and love it so much and desperately wish it had been around for you at other times in your life? Times when you felt like nobody understood what it was you were going through? Times when you just felt so alone? Well, this is one of those books…Part of It is consistently hilarious, but Schrag never shies away from uncomfortable memories, those times that are truly cringe-worthy upon reflection, and are therefore all the more important to revisit and understand. This is a perfect coming-of-age book—smart and honest and unafraid of visiting the points in our lives when we didn't yet know who we wanted to be, or who we already were."
—NYLON, "10 New Books to Read this November"

"The stories collected in Part of It illustrate Schrag's facility for being hyperspecific about her own lived experience while at the same time evoking similar memories in her readers through the skillful distillation of events or moods into a single, evocative drawing. As such, Schrag's comics function as an argument for the form as an especially potent vehicle for autobiography, wherein author and reader alike can project themselves into a past made visible on the page...The near-simultaneous publication of Part of It: Comics and Confessions and Dirty Plotte: The Complete Julie Doucet acts as a reminder of their lasting influence. It also provides an argument about their essential kinship as female comics creators who tirelessly but enthusiastically challenged conventions about what comics should be, and who should make them."
—Frederik Byrn Køhlert, Los Angeles Review of Books

"There's a story in the middle of Ariel Schrag's Part of It that I can't stop thinking about...Schrag is an expert personal storyteller...The elegantly slender-lined visual style is deceptively simple, gradually revealing Schrag's ability to command emotion with her pen in the same way she does with her words."
—Vulture, "The 8 Best Comics to Read This November"

"Ariel Schrag knows it's the little moments—no matter how awkward or cringe-worthy—that shape us into who we are. You'll relate so hard to Part of It, her latest emotional and endlessly entertaining graphic memoir."
—Bustle

"A hilariously exact dissection of the randomly wrong-headed decisions and wildly ridiculous obsessions that plague all of us during adolescence and young adulthood."
—Aimee Mann
 
"Both heartbreaking and hilarious, I could not put Part of It down. Ariel Schrag is an inspiration, a hero, a desperately needed queer voice and one of the best storytellers I know."
—Jill Soloway 

"I've always admired Ariel Schrag's fearless commitment to honesty, both in real life and in her art. For me, that's been the crucial ingredient in all her work, and Part of It is no exception."
—Adrian Tomine, author of Killing and Dying

"Ariel Schrag does it again, brilliantly depicting the small and momentous moments that make up a queer life, a coming of age, a personhood. Part of It is a bildungsroman for the young person who is full of feelings and fumbling to find the right place to put them. I wish I could go back in time and give it to my younger self. I'm so glad to have it now."
—Melissa Febos, author of Whip Smart and Abandon Me

"Ariel Schrag's comics are like taking a time machine back to your adolescence and reliving the moments that were cringe-worthy, so you can realize that having lived them made you a better person.  Raw, insightful, and entertaining."
—Liz Prince, author of Tomboy: A Graphic Memoir

"Ariel Schrag is a master of the autobiographical vignette. She has a knack for distilling moments down to their funniest, richest essence. Her comics are well-drawn, straightforward, relatable, and essential for anyone interested in smart, painfully honest female narratives. I love her comics!"
—Nicole Georges, author of Fetch

"When I read Ariel Schrag's first book, Awkward, in 1996, I thought, 'Whoa, you're allowed to do that with comics?!' She was only 15 then, yet she was taking confessional comics to groundbreaking new levels. Over the years, I've watched her hone her craft to fully realized maturity, while wholly retaining the authentic, raw quality that she brought straight out of the gate. Part of It is a showcase of Ariel's most recent and finest short works. As an artist, she's in her prime, and as a storyteller, she doesn't compromise or pull punches, especially on herself."
—Gabrielle Bell, author of Everything is Flammable 

"Part of It resists and transcends any coming-of-age clichés...the best coming-of-age stories are messes themselves, free of the reductive morality we've been taught to expect in these types of narratives, leaving the reader feeling liberated from any simplistic lesson; Ariel Schrag's latest illustrated book, Part of It, then, serves as one of the best examples of the genre, while also resisting any such categorization at all...Instead of concerning itself with becoming, Part of It reflects the inherent complexities of just being, awkward and beautiful and painful and liberating though it may be."
—Kristin Iversen, NYLON

"Inviting...a kind of scrapbook of Schrag's growth from ages six to 26, with quick, vivid snapshots capturing social and emotional milestones. Schrag is skilled at immersing the reader in her memories in a way that feels real and unforced, as if her audience were her teenage friends gossiping in a bedroom or college kids figuring out, collectively, where to stand at a party. Her simple artwork, while sketchy in earlier drafted pieces, develops into a clean, rounded wide-eyed style reminiscent of Peanuts, and is similarly accessible. As Schrag's cartoon self matures from an awkwardly experimenting grade schooler to a ruthlessly status-obsessed teenager to a neurotic adult who obsesses over finding the perfect pair of hipster glasses, themes develop: discovering her sexuality, testing her social power, and yearning to fit in with one group after another...[Part of It] gets to the heart of the struggle that so many young people feel to fit in." 
—Publishers Weekly

"Writer and cartoonist Schrag examines her own struggles to be 'part of it,' no matter what 'it' is, offering both insider and outsider perspectives in this upbeat collection...Confessional and completely devoid of self-judgment, Schrag's stories are funny, poignant, frequently awkward, and all too recognizable to anyone who has ever felt out of place...her drawings are emotionally astute and capture with one glance everything left unsaid. By sharing her most embarrassing and her proudest moments, Schrag invites us to go easy on ourselves; we all have the same struggles, and in this way, she invites readers to be part of it, too."
​—Booklist