Mike (Hardcover)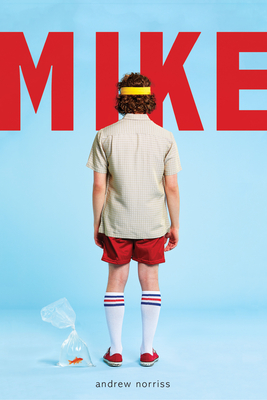 $17.99
In Stock—Click for Locations
Description
---
Mike is the imaginary friend and projection of a repressed wish that won't go away until Floyd confronts both his greatest fear and greatest desire: to succeed.
An "Enchanting coming-of-age tale, with a young man struggling to come to terms with his future and what he really wants out of life. Anyone who has tried to live up to their parents' desires and expectations will be able to connect with Floyd as he begins his journey of self-discovery." -- School Library Journal (starred review)

MEET FLOYD. He's a tennis star. Possibly good enough to win Wimbledon one day. MEET MIKE. He's... different. Apart from anything else, Floyd seems to be the only one who can see him. But Mike must have appeared for a reason. And finding out why is perhaps the most important thing Floyd will ever do...
About the Author
---
Andrew Norriss is the Whitbread Award-winning author of Aquila (Puffin, 1997). He taught English for ten years before becoming a full-time writer. He has created and co-written several successful British sitcoms, including a few adaptations of his children's books. He lives in Hampshire, England. Visit him online at www.andrewnorriss.co.uk
Praise For…
---
Praise for Mike:

"This is a enchanting coming-of-age tale, with a young man struggling to come to terms with his future and what he really wants out of life. Anyone who has tried to live up to their parents' desires and expectations will be able to connect with Floyd as he begins his journey of self-discovery." -- School Library Journal (starred review)

"Floyd embarks on an urgent journey: to learn who Mike is, figure out what he wants, and realize that, when choosing our path through life, who we listen to matters." -- Kirkus

Praise for Friends for Life:

A Publishers Weekly Best Book of 2015

* "This memorable story will leave readers thinking about how small actions can have a significant impact." -- Publishers Weekly, starred review

"[A] simple, quiet story about the effects of bullying and the power of friendship." -- Booklist

"This British import will resonate with readers long after they finish the final page." -- School Library Connection

"An appealing afterlife account with an important message." -- Kirkus Reviews

"This is a creative approach to a serious subject; Norriss provides a touching, accessible, and ultimately hopeful portrayal of depression that will feel ringingly true to young readers who have spent time in their own 'Pit.'" -- Bulletin of the Center for Children's Books