Fire in the Ashes: Twenty-Five Years Among the Poorest Children in America (Paperback)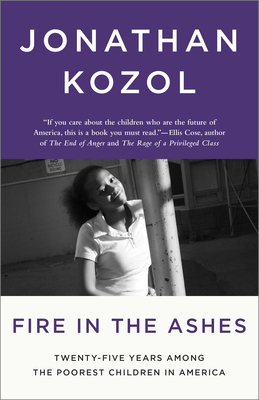 $17.00
Special Order—Subject to Availability
Description
---
In this powerful and culminating work about a group of inner-city children he has known for many years, Jonathan Kozol returns to the scene of his previous prize-winning books, and to the children he has vividly portrayed, to share with us their fascinating journeys and unexpected victories as they grow into adulthood.
   For nearly fifty years, Jonathan has pricked the conscience of his readers by laying bare the savage inequalities inflicted upon children for no reason but the accident of being born to poverty within a wealthy nation. But never has his intimate acquaintance with his subjects been more apparent, or more stirring, than in Fire in the Ashes, as Jonathan tells the stories of young men and women who have come of age in one of the most destitute communities of the United States. Some of them never do recover from the battering they undergo in their early years, but many more battle back with fierce and often jubilant determination to overcome the formidable obstacles they face. As we watch these glorious children grow into the fullness of a healthy and contributive maturity, they ignite a flame of hope, not only for themselves but also for our society.
About the Author
---
JONATHAN KOZOL is the award-winning author of Savage Inequalities, Death at an Early Age, The Shame of the Nation, and Amazing Grace.  He has been working with children in inner-city schools for nearly fifty years.
Praise For…
---
A Kirkus Reviews Best Nonfiction Book of 2012
A Booklist 2012 Editor's Choice Selection

"Kozol's storytelling gifts shine through: with simple anecdotes that show the soulful humor, compassion, and wisdom that kindles progress among the survivors." —Christian Science Monitor

"Fire in the Ashes isn't some saccharine account of how disadvantaged youth get a break and then triumph over adversity.  Instead, Kozol shows us the very real costs of putting children in bad schools….Throughout, Kozol connects with these kids and young adults on a human level, refusing to step on to some political soapbox." —Boston Globe

"As I read Fire in the Ashes and thought about Kozol's admirably principled commitment to chronicling the lives of the urban poor, I marveled at his staying power.  His tone, too, has been consistent for almost 50 years – cool, smart, empathetic and, despite all the evidence to rebut his convictions, full of hope….Kozol's brilliant body of work shines a light not merely on the lives of the poor, but also into the dark night of the American soul." —Portland Oregonian

"Check out this magnificent book, because I think you'll like it.  For anyone [who] cares about his fellow human, Fire in the Ashes burns bright." —Savannah Morning News

"Engrossing chronicle of lives blighted and redeemed....Eschewing social science jargon and deploying extraordinary powers of observation and empathy, Kozol crafts dense, novelistic character studies that reveal the interplay between individual personality and the chaos of impoverished circumstances.  Like a latter-day Dickens (but without the melodrama), he gives us another powerful indictment of America's treatment of the poor." —Publisher's Weekly (starred)

"In this engaging, illuminating, often moving book, [Kozol] recounts the lives of poor black and Latino children—many now close friends—who once lived in Manhattan's Martinique Hotel….Cleareyed, compassionate and hopeful." —Kirkus Reviews (starred)

"An engaging look at the broader social implications of ignoring poverty as well as a very personal look at individuals struggling to overcome it." —Booklist (starred)

"Jonathan Kozol is America's premier chronicler of life among the children of societal neglect. And Fire in the Ashes may be his best book yet . . . . Kozol does not just write about these people; he becomes an intimate part of their lives, sharing their triumphs, defeats, and, too often, mourning their deaths . . . . If you care about the children who are the future of America, this is a book you must read." —Ellis Cose, author of The End of Anger and The Rage of a Privileged Class
 
"Despite the steep odds stacked against these children—which too many cannot overcome—this is a hopeful book thanks to those who do. The incredible resilience, grit and grace of children like Pineapple are a call to urgent action." —Marian Wright Edelman, President, Children's Defense Fund
 
"Kozol has a knack for describing his relationships with poverty-stricken children with a sympathy that is so straightforward one cannot indulge in pity.  Fire in the Ashes is a wonderful book. I couldn't put it down." —Deborah Meier, author of In Schools We Trust and The Power of Their Ideas
 
"Fire in the Ashes is a terrific book—powerful, insightful, and heartbreaking."
—David Berliner, author of The Manufactured Crisis