Politics and Prose will be closed on January 20.
Rewire Your Brain For Love: Creating Vibrant Relationships Using the Science of Mindfulness (Hardcover)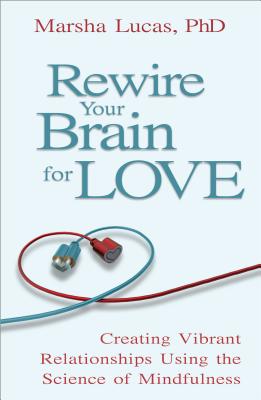 Out of Print in This Format
Description
---
On the way to finding and creating vibrant, successful relationships, too many of us end up tangled in the same old patterns, tripped up by relationship habits that get in our way whether we "know better" or not. In Rewire Your Brain for Love, neuropsychologist and psychotherapist Marsha Lucas, PhD, helps you untangle those relationship snarls, bringing together the latest neuroscience with a practice consistently heralded by top academic institutions for its effectiveness in changing the brain: the practice of mindfulness meditation. Dr. Lucas's clear, unintimidating, often laugh-out-loud style invites you to explore how the brain functions in relationships, helping you understand how your current relationship wiring developed and showing you how you can rewire your relationship brain through mindfulness meditation. A down-to-earth therapist and self-described neuroscience geek, Dr. Lucas has written a chapter-by-chapter guide with compassion, wisdom, and humor. In Rewire Your Brain for Love, she takes you on a journey through seven high-voltage relationship benefits—everything from keeping your fear from running the show to cultivating healthy, balanced empathy—and offers specific mindfulness practices to help bring those benefits into your life. With a few minutes of practice a day, you can change the way you interact with everyone around you . . . especially those closest to you. You can transform your brain from an enemy to an ally in all matters of the heart, creating more loving communication, building emotional resilience, and reducing overreactivity—not to mention enjoying better sex. You don't have to become a monk, or a vegetarian, or spend hours contemplating your navel—you just need to update the relationship wiring of your brain. The simple practice of mindfulness can help get you there, with Dr. Lucas showing you how.
About the Author
---
Marsha Lucas, PhD., is a licensed psychologist and neuropsychologist, and has been practicing psychotherapy and studying the brain-behavior relationship for nearly twenty years. Prior to entering private practice, she was a neuropsychologist on the faculty at the Emory University School of Medicine.She fell in love with interpersonal neurobiology in a conference room full of 750 other people—finding herself getting some odd looks when she had tears of joy rolling down her face at the mention of the anterior cingulate and the insula in the same sentence as "greater empathy." She appreciates the integration of mindfulness, neuroscience, and relationships as a perfect confluence of many of the previously unintegrated aspects of her life.Dr. Lucas maintains a clinical private practice in Washington, D.C. She lives in suburban D.C. with her husband, Duncan Krieger, their son, Gabriel, and their dog, Bodhi Tzedakah.
Praise For…
---
 "With entertaining humor and enlightening clarity, Dr. Lucas blends cutting-edge discoveries in neurobiology and psychology with time-honored practices from ancient wisdom traditions to help us navigate the challenges of intimate relationships. Full of real-life examples and practical tools, this book is a delightful must-read for anyone wanting to get along better with other people." — Ronald D. Siegel, PsyD, Assistant Clinical Professor of Psychology, Harvard Medical School; author of The Mindfulness Solution
"Rewire Your Brain for Love is delightfully engaging and easy to read. Everyone will find something life-enhancing inside these pages." — Christiane Northrup, MD, author of the New York Times bestsellers Women's Bodies, Women's Wisdom and The Wisdom of Menopause
"Honest, warmhearted, and funny. Marsha Lucas explains neuroscience in plain English, so all of us can understand. She brings great clarity to the sometimes murky waters of romantic relationships and gives us a wonderful introduction to mindfulness meditation and its benefits." — Sharon Salzberg, author of Real Happiness
"Marsha Lucas takes the mystery out of two mysterious subjects—the inner workings of our brains and the successful pursuit of true love. She's a wise and funny cupid, bringing together our hearts and minds as she explains amygdalas and anxiety, frontal lobes and commitment-phobes. She's an excellent advocate for meditation, presenting its benefits in a unique, compelling way." — Priscilla Warner, author of Learning to Breathe
"Each of us has the potential to live with an open, loving heart. This book shows us how meditation awakens our capacity for increased presence, intimacy, and understanding in our relationships. With clarity and humor, Marsha Lucas gives us both the fascinating science behind this transformation, and the practices that make it possible." — Tara Brach, PhD, author of Radical Acceptance
"With Rewire Your Brain for Love, Marsha Lucas has pulled off an achievement that is as valuable as it is rare: she synthesizes complex neurophysiological information about the brain's role in relationships, in clear, reader-friendly ways; and combines this with effective tools and suggestions for beefing up the capacity for attachment. And there's a bonus: she's a really fine, witty, accessible writer. Anyone who struggles with garden-variety anxiety about love, all the way up to full-blown phobia, should read this book, more than once. And it should be dog-eared and well worn on every therapist's reference shelf." — Belleruth Naparstek, LISW, author of Invisible Heroes and creator of the Health Journeys guided imagery series
"Dr. Lucas shows readers how to use the power of neuroplasticity—the capacity of the mind to change the brain—to build up the 'circuits' of resilience, empathy, and assertiveness for relationships. Her voice is warm, funny, down-to-earth, practical, and so very helpful. This book is like having a best friend who is both savvy about the brain and a world-class therapist." — Rick Hanson, PhD, author of Buddha's Brain
"Marsha Lucas's Rewire Your Brain for Love is a smart and reader-friendly guide for an exciting journey through our hearts and brains. Dr. Lucas skillfully interweaves her therapeutic and neuroscientific knowledge with personal wisdom into a rich, meaningful, and accessible tapestry that expands our self-awareness in the service of sustaining and deepening our relationships."— Louis Cozolino, PhD, Professor of Psychology, Pepperdine University; author of The Neuroscience of Human Relationships
"Dr. Lucas provides an accessible and practical guide to help us bring alive the exciting intersection of mindfulness and neuroscience for healthier relationships and a better life." — Elisha Goldstein, PhD author of The Now Effect and co-author of A Mindfulness-Based Stress Reduction Workbook
"We live in a world of failed relationships and loss of love. Dr. Lucas has given us the science and clinical application of mindfulness meditation tools to help us heal ourselves, our relationships, and our world. We are all in need of this sage advice." — Allan Warshowsky, MD, FACOG, ABIHM, Director Emeritus of the American Board of Integrative Holistic Medicine
"You hold in your hands a unique piece of work. Marsha guides you carefully, to help you understand the unique benefits of mindfulness from the inside-out, and so helps to ignite or re-ignite your passion for the meditative practice. Better relationships lie at the heart of a life of health and well-being. Through reading this book, you learn to become an electrician of your own brain, and discover specific mind techniques that lead to a better relationship with both yourself and those close to you. A delight to read—highly recommended!"
— Shamash Alidina, author of Mindfulness for Dummies and Relaxation for Dummies
"This excellent book takes the reader on an exciting journey of self discovery and healing through the emerging field of neurobiology and mindfulness meditation. Dr. Lucas presents scientific concepts in an easily understood manner and goes onto assist the reader to learn meditation techniques that have demonstrated proven healing benefits for emotional, psychological, and physical problems as well as for those individuals who strive for optimal wellness. This book is a must-read for everyone."
— Leonard A. Wisneski, MD, FACP, Professor at George Washington University, Georgetown University, University of Colorado; author of The Scientific Basis of Integrative Medicine
"Ever wondered why you get stuck in the same old relationship patterns? With no-nonsense wit and warmth, Marsha Lucas shows you what's happening at brain level when habits form, persist, and most importantly, shift. Crucially, she also shows you how to apply this knowledge to transform your intimate connections—all with the simple practice of mindfulness. This book will bring joy not just to many readers, but to those who share their lives."
— Ed Halliwell, co-author of The Mindful Manifesto