Horrid Henry and the Soccer Fiend (Paperback)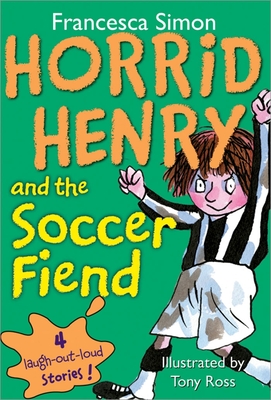 Description
---
Age Level: 7 and up - Grade Level: 2 to 5
Horrid Henry reads Perfect Peter's diary and improves it; goes shopping with Mom and tries to make her buy him some really nice new sneakers; is horrified when his old enemy Bossy Bill turns up at school; and tries, by any means, to win the class soccer match and defeat Moody Margaret.
Francesca Simon is one of the world's best-loved children's authors. She is the only American to have ever won the Galaxy Book Award, and her creation, Horrid Henry, is the #1 bestselling chapter book series in the UK--with a hit TV show and over fifteen million copies sold Each book contains four easy-to-read stories and hilarious illustrations by the one and only Tony Ross, so even the most reluctant of readers won't be able to resist Henry's amazing talent for trouble
A global publishing phenomenon with 12 million copies sold
About the Author
---
Francesca Simon was born in the United States and attended both Yale and Oxford universities. For ten years she worked as a freelance journalist. She now writes fulltime and has had many books published including the bestselling Horrid Henry series and several picture books. She lives in North London, England, with her husband, Martin, and her son, Josh. Tony Ross is a prolific illustrator of books for children, including Francesca Simon's Horrid Henry series, Martyn Beardsley's Sir Gadabout stories - as well, of course, as his own stories. Over the past few years, Tony has become one of the best known creators of original and traditional picture books and his work has been sold all over the world. Tony Ross was born on August 10, 1938, in London. He trained at the Liverpool School of Art and has worked as a cartoonist, a graphic designer, as the Art Director of an advertising agency, filmmaker, and as Senior Lecturer in Art at Manchester Polytechnic.