Magnus Chase and the Gods of Asgard, Book 1 The Sword of Summer (Hardcover)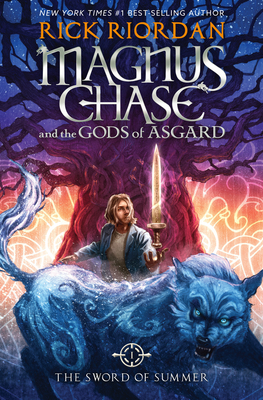 $19.99
Not On Our Shelves—Ships in 1-5 Days
Description
---
Magnus Chase has always been a troubled kid. Since his mother's mysterious death, he's lived alone on the streets of Boston, surviving by his wits, keeping one step ahead of the police and the truant officers.

One day, he's tracked down by an uncle he barely knows-a man his mother claimed was dangerous. Uncle Randolph tells him an impossible secret: Magnus is the son of a Norse god.

The Viking myths are true. The gods of Asgard are preparing for war. Trolls, giants and worse monsters are stirring for doomsday. To prevent Ragnarok, Magnus must search the Nine Worlds for a weapon that has been lost for thousands of years.

When an attack by fire giants forces him to choose between his own safety and the lives of hundreds of innocents, Magnus makes a fatal decision.

Sometimes, the only way to start a new life is to die . . .

About the Author
---
Rick Riordan (www.rickriordan.com) is the author of three # 1 New York Times best-selling series with millions of copies sold throughout the world: Percy Jackson and the Olympians, the Kane Chronicles, and the Heroes of Olympus. His Greek myth collection, Percy Jackson's Greek Gods, was a #1 New York Times bestseller as well. His previous novels for adults include the hugely popular Tres Navarre series, winner of the top three awards in the mystery genre. He lives in Boston, Massachusetts with his wife and two sons.

Praise For…
---
PRAISE FOR THE MARK OF ATHENA
"With a true storyteller's sense of pacing, Riordan creates another compelling adventure, right down to the cliff-hanger at the end. Stay tuned for volume four."
—
BooklistPRAISE FOR THE SWORD OF SUMMER
"Rick Riordan's new series is simply brilliant-maybe his best yet! I thought I knew Norse mythology, but now that I've read the gripping and hilarious
Sword of Summer
, I'll never see Thor the same way again. Get ready to stay up all night reading!"—
New York Times #1 best-selling author Harlan CobenPRAISE FOR THE SWORD OF SUMMER
"
The Sword of Summer
is a propulsive, kinetic, witty rebooting of Norse mythology with all the charm of the Percy Jackson novels. Instantly likeable heroes! Insane action! Cool villains! A twisting, turning, always exciting story! Rick Riordan does it again, even better."—
New York Times best-selling author Michael GrantPRAISE FOR THE SWORD OF SUMMER
"
The Sword of Summer
combines the glory of Norse myth with the joy of Rick Riordan's effervescent world-building. One of Riordan's funniest books-everything from the chapter titles to the wry humor of Magnus Chase will have you chuckling, even as the plot races along at breakneck speed. Check me in to Hotel Valhalla, please. I'll be staying."—
New York Times #1 best-selling author Cassandra ClarePRAISE FOR PERCY JACKSON'S GREEK GODS
"The clash of modern and classical worlds is both exciting and entertaining."
—
The New York Times Book ReviewPRAISE FOR PERCY JACKSON'S GREEK GODS
"The novel's winning combination of high-voltage adventure and crackling wit is balanced with scenes in which human needs, fears, and ethical choices take center stage."
—
Booklist (starred review)PRAISE FOR THE LAST OLYMPIAN
"Riordan masterfully orchestrates the huge cast of characters and manages a coherent, powerful tale at once exciting, philosophical and tear-jerking. The bestselling series' legions of fans will cheer their heroes on and rejoice in such a compelling conclusion to the saga."
—
Kirkus Reviews (starred review)PRAISE FOR THE BATTLE OF THE LABYRINTH
*"The wit, rousing swordplay and breakneck pace will once again keep kids hooked."
—
Publishers Weekly (starred review)PRAISE FOR THE HOUSE OF HADES
"Adventure fans will relish the action as their heroes confront formidable foes, while readers who have come to love the characters will enjoy following the different individuals as they take the stage in scenes that are usually dramatic, often witty, and occasionally surprising. A satisfying, penultimate entry in the Heroes of Olympus series."
—
Booklist OnlinePRAISE FOR THE HOUSE OF HADES
"In this adventure, victories are hard-won and the essence of bravery nuanced, making the journey as satisfying as it is entertaining."
—
Kirkus ReviewsPRAISE FOR THE LIGHTNING THIEF
"Perfectly paced, with electrifying moments chasing each other like heartbeats."—
New York Times Book ReviewPRAISE FOR THE MARK OF ATHENA
"With his now-trademark zero-to-60 acceleration, the author engineers a ghostly possession to set Greeks and Romans at odds and initiates the Prophecy of the Seven, hurtling Annabeth, Percy, Piper, Leo, Hazel, Frank and Jason into a pell-mell flight on the magical trireme Argo II. Here, Riordan's infectious love for his subject matter really comes through, even as he takes some real risks with his characters. A literal cliffhanger leaves eager readers hanging; next stop: Greece-and Tartarus."
—
Kirkus ReviewsPRAISE FOR THE SEA OF MONSTERS
* "In a feat worthy of his heroic subjects, Riordan crafts a sequel stronger than his compelling debut."

—
Publishers Weekly (starred review)PRAISE FOR THE SON OF NEPTUNE
"Should pacing and wit continue unabated into the third volume, whose foretold European setting promises further freshness, fans will eagerly await numbers four and five."
—
Kirkus ReviewsPRAISE FOR THE TITAN'S CURSE
"All in all, a winner of Olympic proportions."—
School Library Journal