The Sorcerer Heir (The Heir Chronicles #5) (Paperback)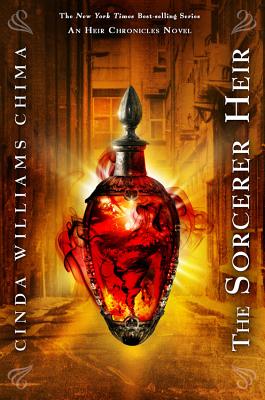 Other Books in Series
This is book number 5 in the The Heir Chronicles series.
Description
---
The delicate peace between Wizards and the underguilds (Warriors, Seers, Enchanters, and Sorcerers) still holds by the thinnest of threads, but powerful forces inside and outside the guilds threaten to sever it completely.

Emma and Jonah are at the center of it all. Brought together by their shared history, mutual attraction, and a belief in the magic of music, they now stand to be torn apart by new wounds and old betrayals. As they struggle to rebuild their trust in each other, Emma and Jonah must also find a way to clear their names as the prime suspects in a series of vicious murders. It seems more and more likely that the answers they need lie buried in the tragedies of the past. The question is whether they can survive long enough to unearth them.

Old friends and foes return as new threats arise in this stunning and revelatory conclusion to the beloved and bestselling Heir Chronicles series.


Praise for The Heir Chronicles:
The Warrior Heir
*"Chima offers a pitch-perfect blend of high fantasy and small-town reality..." -The Bulletin of the Center for Children's Books (starred review)

* "Twists and turns abound in this remarkable, nearly flawless debut novel that mixes a young man's coming-of-age with fantasy and adventure." -VOYA (starred review)

The Wizard Heir
* "Chima uses her pen like a wand and crafts a wonderfully rich web of magic, while thankfully leaving some dangling threads for subsequent tales." -VOYA (starred review)

"Chima is a talented storyteller...a strong choice for teens seeking a rousing read." -The Cleveland Plain-Dealer

The Dragon Heir
* "A superlative accomplishment." -Kirkus Reviews (starred review)

"Chima spins a finely structured tale that roars to a satisfying conclusion." -School Library Journal

The Enchanter Heir
* "A smoldering story soaked in tears, sweat and blood, constantly threatening to blaze into an inferno. Spellbinding." -Kirkus Reviews (starred review)

"Chima continues to excel at building tension and populating her well-told tales with new and returning characters we want to know better." -Booklist
About the Author
---
New York Times and USA Today bestselling author Cinda Williams Chima grew up with talking animals and kick-butt Barbies. She began writing poetry and stories in third grade and novels in junior high school. These days she writes fantasy fiction for teens of all ages. Her Heir Chronicles contemporary fantasy series includes The Warrior Heir, The Wizard Heir, The Dragon Heir, The Enchanter Heir, and The Sorcerer Heir.

Her high fantasy Seven Realms series launched with The Demon King, followed by The Exiled Queen, The Gray Wolf Throne, and The Crimson Crown; she is also the author of the Shattered Realms series, including Flamecaster, Shadowcaster, Stormcaster, and Deathcaster, among other works. She lives in Ohio with her family, and invites you to visit her online at cindachima.com.
Praise For…
---
PRAISE FOR THE WARRIOR HEIR

*"Chima offers a pitch-perfect blend of high fantasy and small-town reality..."—The Bulletin of the Center for Children?s Books (starred review)

PRAISE FOR THE WARRIOR HEIR

* "Twists and turns abound in this remarkable, nearly flawless debut novel that mixes a young man's coming-of-age with fantasy and adventure."—VOYA (starred review)

PRAISE FOR THE WIZARD HEIR

"Chima is a talented storyteller...a strong choice for teens seeking a rousing read."—The Cleveland Plain-Dealer

PRAISE FOR THE WIZARD HEIR

"Chima uses her pen like a wand and crafts a wonderfully rich web of magic, while thankfully leaving some dangling threads for subsequent tales."—VOYA

PRAISE FOR THE DRAGON HEIR

"Chima spins a finely structured tale that roars to a satisfying conclusion."—School Library Journal

PRAISE FOR THE DRAGON HEIR

* "A superlative accomplishment."—Kirkus Reviews (starred review)

PRAISE FOR THE ENCHANTER HEIR

* "...the twisty narrative works, propelled by the deft characterizations of tortured, frustrated, desperate Jonah and fierce, feral, determined Emma and held together by the ubiquitous soundtrack of the blues, both literally and metaphorically. Chima orchestrates a world gravid with smoke and grit and sudden death, throbbing with hopeless longings, messy affections, festering resentments, passionate hungers, inevitable betrayals, and miraculous flashes of beauty and grace. A smoldering story soaked in tears, sweat and blood, constantly threatening to blaze into an inferno. Spellbinding."—Kirkus Reviews (starred review)

PRAISE FOR THE ENCHANTER HEIR

"Intriguing plot and subplot teasers abound . . . Chima continues to excel at building tension and populating her well-told tales with new and returning characters we want to know better."—Booklist

PRAISE FOR THE ENCHANTER HEIR

"Teens will be more than relieved when they can finally put their hands on this next, long-awaited entry in the Heir Chronicles series. The surprise ending, with plenty of loose threads left hanging, will intrigue and frustrate fans who now must begin to wait all over again."—VOYA