We're following all official guidelines to keep ourselves healthy on the job, and as a result, shipping may be delayed.
You will receive an email from our web orders team confirming that your order has been processed.
We thank you for your support and your patience at this challenging time.
The Fighters: Americans In Combat (Paperback)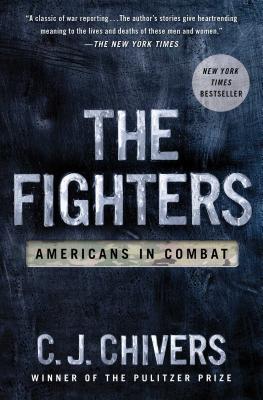 Description
---
The harrowing account of US soldiers caught in America's forever wars in Iraq and Afghanistan that The New York Times calls "relentless...a classic of war reporting," by Pulitzer Prize winner and former Marine C.J. Chivers.

More than 2.7 million Americans have served in Afghanistan or Iraq since September 11, 2001, and C.J. Chivers reported on both wars from their beginnings. The Fighters vividly conveys the physical and emotional experience of war as lived by six combatants: a fighter pilot, a corpsman, a scout helicopter pilot, a grunt, an infantry officer, and a Special Forces sergeant.

Chivers captures their courage, commitment, sense of purpose, and ultimately their suffering, frustration, and moral confusion as new enemies arise and invasions give way to counterinsurgency duties for which American forces were often not prepared.

The Fighters is a "gripping, unforgettable" (The Boston Globe) portrait of modern warfare. Told with the empathy and understanding of an author who is himself an infantry veteran, The Fighters is "a masterful work of atmospheric reporting, and it's a book that will have every reader asking—with varying degrees of urgency or anger or despair—the final question Chivers himself asks: 'How many lives had these wars wrecked?'" (Christian Science Monitor).
About the Author
---
C.J. Chivers is a correspondent for The New York Times and a writer-at-large for the New York Times Magazine. His magazine story "The Fighter" won the 2017 Pulitzer Prize in Feature Writing. In 2009 he was part of a team that won the Pulitzer Prize for International Reporting for coverage from Afghanistan and Pakistan. Chivers served as an infantry officer in the United States Marine Corps in the Persian Gulf War and on peacekeeping duty during the Los Angeles riots. He is the author of The Gun and The Fighters.
Praise For…
---
"A classic of war reporting . . . There is no down time in this relentless book . . . It is real and in the moment . . . Chivers's achievement has been to make his subjects mythic as well as human . . . The author's stories give heart-rending meaning to the lives and deaths of these men and women, even if policymakers generally have not."—The New York Times

"A masterpiece."—Providence Journal

"Remarkable. . . . a memorial in pages."—The Washington Post

"Gripping, unforgettable."—The Boston Globe

"A masterful work of atmospheric reporting, and it's a book that will have every reader asking – with varying degrees of urgency or anger or despair – the final question Chivers himself asks: 'How many lives had these wars wrecked?'"—Christian Science Monitor

"C.J. Chivers, an artist among war correspondents, fashions a vast mosaic of bravery and miscalculation from the lives of American combatants in Iraq and Afghanistan."—The Wall Street Journal

"[Chivers] draws on the grit, sweat, and raw emotion of war to tell a story as few can, with a reality so unflinchingly rich and powerful that it can be overwhelming for the uninitiated reader....The Fighters cements his reputation as the foremost combat journalist of his generation."—Modern War Institute at West Point

"A bitter dose of truth about the wars in Afghanistan and Iraq. . . . The Fighters is about as accurate a depiction of combat in the Sandbox as we are going to see in our lifetimes."—Field & Stream

"A chilling account of failed American invasions of Afghanistan and Iraq through the searing experiences of six fighters."—Kirkus Reviews, starred review

"A Must-Read Book…The Fighters will stand as an essential record of Americans in combat in the years following September 11."—Men's Journal

"The narrative he weaves is not only compelling but may change what you think you know about the American military experience in these two countries."—Christian Science Monitor

"Gripping and thought-provoking."—USA Today

"The Fighters spares no one. . . . These are not easy hero stories with smooth edges, but in their lack of cohesion and conclusion down in the gray areas where they dwell, they shine back at us, forcing us to look at what we've done as a nation, forcing us to look at ourselves."—Popular Mechanics

"A necessary, immersive narrative of what it's like for a soldier in Afghanistan and Iraq, fighting without a clear end."—Chicago Tribune

"Evocative . . . This fast-paced, action-heavy work of long-form war journalism has bestseller written all over it."—Publishers Weekly (starred review)

"Wonderfully engaging. Readers will empathize with the trials each faced in combat and beyond in a book that will enlighten all who read it, no matter their feelings about the wars."—Booklist, starred review

"The Fighters is a rare book that thrusts the reader straight into the sweaty, filthy, exhausted reality of war while also revealing the broad sweep and scope of our nation's struggles. It joins the best war literature this country has ever produced."—Sebastian Junger, New York Times bestselling author of Tribe and War

"Courageous in its reporting and shining in its humanity, The Fighters is a defining document of what war truly is."—David Finkel, Pulitzer Prize-winning author of Thank You For Your Service and The Good Soldiers

"A riveting, heart-rending, and chastening account of the Americans who are waging wars that the rest of us have already chosen to forget. It is a gift to the nation, both deeply moving and profound in its implications."—Andrew J. Bacevich, New York Times bestselling author of America's War for the Greater Middle East