Fuzzy Baseball Vol. 3: R.B.I. Robots (Hardcover)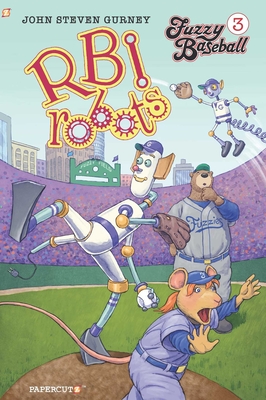 Other Books in Series
This is book number 3 in the Fuzzy Baseball series.
Description
---
The Fernwood Valley Fuzzies have a baseball game set with the undefeated and impeccable Geartown Clankees. The Clankees perform like well-oiled machines…mainly because they are robots in disguise just wanting to fit in and feel the love of good sportsmanship deep inside their gears. It's a battle of bolts, brawn, and stamina as the Fuzzies must keep up with their robotic counterparts if they are to win the game. With their rookie, Blossom Honey Possum, benched due to her fear of robots and their hitter, Walter Wombat, determined to win at any costs, the Fuzzies are up for the fight of their lives. Forget about 7 inning stretch, try 38 inning stretch! Play ball!
About the Author
---
JOHN STEVEN GURNEY has illustrated over 120 books for children He is the illustrator of some of America's most popular chapter books series. Among these are Random House's The A to Z Mysteries and Scholastic's The Bailey School Kids, and Big Apple Barn. His latest series is The Calendar Mysteries, an offshoot of The A to Z Mysteries, featuring the younger siblings of Josh and Ruth Rose.
Praise For…
---
"It's baseball season, and the Fernwood Valley Fuzzies return to face a new group of rivals, the Geartown Clankees. While the Fuzzies include animals—rabbits, bears, possums—the Clankees are robots in disguise, and when their secret is revealed, the Fuzzies are upset. Most of the players don't think that competing against robot opponents will be fair to them, but Blossom Honey Possum is especially worried because she's afraid of robots. What follows is a madcap story filled with baseball puns, empathetic robots, and characters who break the fourth wall. But this fantastic tale stays grounded in the rules of baseball, and sports fans will appreciate how Gurney helps them keep track of the game as the book progresses. Most of the humor is directed at kids, but some jokes will appeal to the grown-ups reading with them. The artwork is lively, colorful, and packed with action and visual humor. VERDICT A fun and funny read for kids who love animals, sports, and stories that stretch their imaginations" - School Library Journal