Ways to Make Sunshine (A Ryan Hart Novel) (Paperback)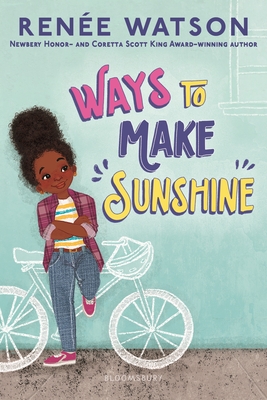 $7.99
Not Yet Published—Pre-Order Now
Description
---
From Newbery Honor and Coretta Scott King Author Award winner Renée Watson comes the first book in a young middle grade series about Ryan Hart, a girl who is pure spirit, kindness, and sunshine.

Ryan Hart has a lot on her mind--school, self-image, and especially family. Her dad finally has a new job, but money is tight. That means some changes, like selling their second car and moving into a new (old) house. But Ryan is a girl who knows how to make sunshine out of setbacks. As her brother says when he raps about her, she's got the talent that matters most: it's a talent that can't be seen, she's nice, not mean!

Ryan is all about trying to see the best in people, to be a good daughter, a good sister, a good friend. But even if her life isn't everything she would wish for, when her big brother is infuriating, her parents don't quite understand, and the unexpected happens, she always finds a way forward, with grace and wit. And plenty of sunshine.

Acclaimed author Renée Watson writes her own version of Ramona Quimby, one starring a Black girl and her family, in this start to a charming new series.
About the Author
---
Renée Watson grew up in Portland Oregon, came to New York for her degree in writing, and now teaches poetry in the New York City Schools. Her books include Betty Before X, Harlem's Little Blackbird: The Story of Florence Mills, A Place Where Hurricanes Happen, and What Momma Left Me which debuted as the New Voice for 2010 in middle grade fiction by The Independent Children's Booksellers Association.
Praise For…
---
"Intermittently funny, frustrating, and touching. . . . Allows black readers to see themselves and all readers to find a character they can love. Move over Ramona Quimby, Portland has another neighbor you have to meet!" —Kirkus Reviews, starred review

"Adroitly captures the uncertainty of growing up amid change through the eyes of an irrepressible black girl." —Publishers Weekly, starred review

"A beautifully rendered series of vignettes à la Beezus and Ramona featuring a Black girl developing into her own personhood, this is a strong start to a new middle-grade series. Ryan Hart is a vivacious child […] with personality and spirit reminiscent of some of the most well-loved heroines in classic juvenile fiction tales." —Booklist, starred review

"A fresh beginning to a new chapter book series featuring a girl who can coax out sunshine from behind the darkest storm." —Shelf Awareness, starred review

"This brave new world we're living in sure could use more stories about these bright and imaginative girls who specialize in 'making a way out of no way.'" —The New York Times Book Review

"Ryan Hart approaches challenges in her life with bravery, common sense, and humor. . . . a refreshing character." —Horn Book Magazine

"Middle graders who like realistic fiction will enjoy getting to know this earnest girl and her supportive family." —School Library Connection

"Plenty of charm . . . readers will look forward to Ryan's future adventures." —BCCB

"The theme of loving family and friends even through difficult times will resonate with readers. Cheerful black-and-white illustrations enhance the story and convey Ryan's effervescent personality." —School Library Journal online

"Timely and timeless." —Jacqueline Woodson, National Book Award winning author of BROWN GIRL DREAMING on PIECING ME TOGETHER

"Watson, with rhythm and style, somehow gets at . . . the life-changing power of voice and opportunity, all wrapped up in Jade." —Jason Reynolds, author of ALL AMERICAN BOYS on PIECING ME TOGETHER

"An important and deeply moving novel." —John Green, bestselling and award-winning author of THE FAULT IN OUR STARS on PIECING ME TOGETHER

"Teeming with compassion and insight." —Publishers Weekly, starred review, on PIECING ME TOGETHER

"A timely, nuanced, and unforgettable story." —Kirkus Reviews, starred review, on PIECING ME TOGETHER

"A nuanced meditation on race, privilege, and intersectionality." —SLJ, starred review, on PIECING ME TOGETHER

"Will resonate with many readers." —BCCB, starred review, on PIECING ME TOGETHER