From the Stars in the Sky to the Fish in the Sea (Hardcover)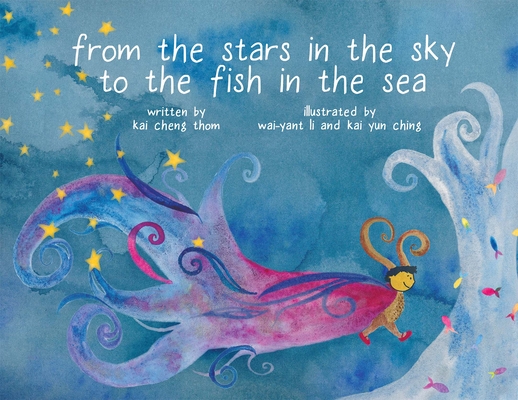 $17.95
In Stock—Click for Locations
Description
---
Arsenal's second foray into children's picture books following Vivek Shraya's The Boy & the Bindi.
Similar in tone to Bindi, this is a gentle book for children ages 3 to 8 that follows Miu Lan, a gender non-conforming child of Chinese American origin, as they navigate through their world, bolstered by the enduring love of their mother. They encounter inquisitive looks and questions from other children at school, and when they come home and they say they haven't made any friends yet, her mother responds with a loving refrain: "whatever you dream of, / i believe you can be, / from the stars in the sky to the fish in the sea."
The message of the book is that the mother's constant encouragement and message of love gives Miu Lan strength and confidence until finally they are surrounded by classmates who are now their friends.
Kai Cheng was inspired to write this book by her own experiences as a gender non-conforming child who ultimately was rejected by her family as a teenager. It is Kai Cheng's hope that the book will show that gender non-conforming children deserve the same kind of love and praise that all children deserve.
About the Author
---
Kai Cheng Thom: Kai Cheng Thom is a writer, performance artist, and psychotherapist based in Montreal and Toronto. Her first novel, Fierce Femmes and Notorious Liars, was released by Metonymy Press in 2016, and her first poetry book, a place called No Homeland, was published by Arsenal Pulp Press in 2017.Kai Yun Ching: Kai Yun Ching is a community-based organiser, educator and illustrator based in Montreal. They edited and published Children's Stories, a collection of tales written by children, with the publishing collective Quilted Creatures in 2016.Wai-Yant Li: Wai-Yant Li is an artist who specializes in ceramics and illustration. For the last 13 years, they have been presenting and selling their work and various major craft fairs, galleries, and museums.