The Hidden Agenda of Sigrid Sugden (Paperback)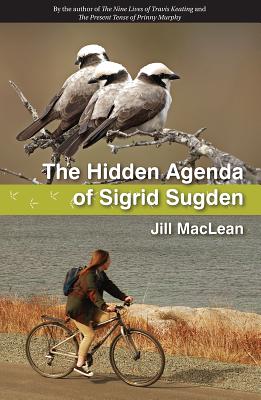 $11.95
Special Order—Subject to Availability
Description
---
A new novel in the award-winning Travis Keating/Prinny Murphy series. Sigrid Sugden is a Shrike, a member of one of the toughest group of girls in school. They are experts at blackmail, extortion and bullying their terrorized classmates.
But one day, the Shrikes go too far. Sigrid realizes that their favourite victim, Prinny Murphy, is in real danger. She makes a decision that will save Prinny from danger but will turn the Shrikes anger and bullying against the former friend who betrayed them to the authorities.
For Sigrid, this is a transformative moment. She wants to be a better person and begins to reflect on the events that led to her being a Shrike. Participating in their mean pranks made her feel powerful and safe. But now, she realizes she needs and wants to turn over a new leaf - make new friends and be kinder to others. But overcoming her badgirl image is a whole lot harder to do than she originally thought. No one likes her, no one trusts her - no one is willing to give her a second chance. But then an unlikely ally comes forward to help her convince the rest of the students at school that she really does want to be a better person - her former victim, Prinny Murphy. 2014/2015 Red Cedar Fiction
Award winner in the fiction category
On Resource Links' Best of 2013 list
2015 Silver Birch Fiction Award nominee
On Ontario Library Association Best Bets List 2013
Shortlisted for The Manitoba Young Readers' Choice Award, 2015
About the Author
---
Shortly after the publication of her 2003 poetry collection, The Brevity of Red (2003), Jill Maclean's nine-year-old grandson Stuart asked her to write him a book with hockey and Skidoos in it. The result was The Nine Lives of Travis Keating (2008) which won the 2009 Ann Connor Brimer Award, was shortlisted for the Canadian Library Association Book of the Year for Children, 2010 Hackmatack, Silver Birch and Diamond Willow Awards, and was a KIND Children's Honorable Mention Book for the Humane Society of the United States. Its 2009 sequel, The Present Tense of Prinny Murphy, won the 2010 Ann Connor Brimer Award. Both books are set in Newfoundland, where Jill's family lived for eighteen years. Jill now makes her home in Nova Scotia, which is the setting for her third novel. Always an avid reader, she is delighted to rediscover the world of children's literature. In her free time she gardens, canoes and hikes.