New Spring: The Novel (Audio Cassette)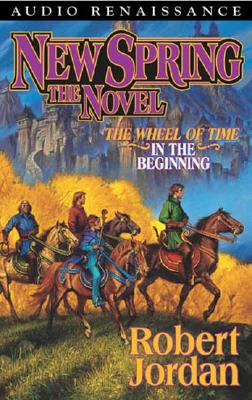 $34.95
Special Order—Subject to Availability
Description
---
From America's premier fantasy writer---#1 New York Times and USA Today bestselling author of Crossroads of Twilight---comes an expanded version of his novella "New Spring," first published in the Legends collection.

For three days battle has raged in the snow around the great city of Tar Valon. In the city, a Foretelling of the future is uttered. On the slopes of Dragonmount, the immense mountain that looms over the city, is born an infant prophesied to change the world. That child must be found before the forces of the Shadow have an opportunity to kill him. Moiraine Damodred, a young Accepted soon to be raised to Aes Sedai, and Lan Mandragoran, a soldier fighting in the battle, are set on paths that will bind their lives together. But those paths are filled with complications and dangers, for Moiraine, of the Royal House of Cairhien, whose king has just died, and Lan, considered the uncrowned king of a nation long dead, find their lives threatened by the plots of those seeking power. "New Spring" related some of these events, in compressed form; New Spring: The Novel tells the whole story.
About the Author
---
ROBERT JORDAN is a graduate of The Citadel. He lives in Charleston, South Carolina. Kate Reading is the recipient of multiple "AudioFile "Earphones Awards and has been named by "AudioFile" magazine as a "Voice of the Century," as well as the Best Voice in Science Fiction & Fantasy in 2008 and 2009. Her audiobook credits include reading for such authors as Jane Austen, Robert Jordan, Edith Wharton, and Sophie Kinsella. She has performed at numerous theaters in Washington D.C. and received a Helen Hayes Award for her performance in "Aunt Dan and Lemon." Michael Kramer has narrated over 100 works for many bestselling authors. He has received "Audiofile "magazine's Earphones Award for the Kent Family series by John Jakes and for Alan Fulsom's "The Day After Tomorrow." He has also read for Robert Jordan's epic Wheel of Time fantasy-adventure series. His work includes recording books for the Library of Congress's Talking Books program for the blind and physically handicapped. Michael also works as an actor in the Washington, D.C. area, where he lives with his wife, Jennifer Mendenhall, and their two children. He has appeared as Lord Rivers in "Richard III" at The Shakespeare Theatre, Howie/Merlin in The Kennedy Center's production of "The Light of Excalibur," Sam Riggs and Frederick Savage in Woody Allen's "Central Park West/Riverside Drive," and Dr. Qari Shah in Tony Kushner's "Homebody/Kabul at Theatre J."
Praise For…
---
"Jordan has come to dominate the world that Tolkien began to reveal." —The New York Times on The Wheel of Time

"Has all the breadth and depth that have made this fantasy author one of the acknowledged greats of the genre."—Publishers Weekly on Crossroads of Twilight

"Jordan has not merely put old wine in new bottles: He has clothed old bones with new flesh." —Chicago Sun-Times on The Eye of the World

"Reading and Kramer are perfect vocal counterparts to the main characters. Reading invites readers into the politics and mystery of the world of Aes Sedai. She gives Moiraine's quirks full attention and makes the most minor of characters distinct. Kramer sounds as battle-worm as Lan Mandragoran is described to be. Effective at making Lan no-nonsense, weary, and observant, Kramer adds further life to the character beyond the military prowess. Fans will not be disappointed..." —KLIATT

"As there is more of a female presence in the story, Kate Reading's performance stands out. Michael Kramer's bare-bones delivery is perfect for the soldier who has lost his belief in a better world until he is swept up in adventure. Both narrators handle complex roles with feeling and confidence, never losing the excitement and tension of the fast-moving story. The performers breathe emotion into their characters with an earnestness that holds listeners close and leaves them wanting more."—AudioFile "After millions of words, the narrators have become immersed in their subject, adept at portraying the multitude of characters playing their parts on this curious stage...The quality of the audio edition...is quite superb... If you are into fantasy then this is one not to miss." —SFCrowsnest.com