The Education of Hopey Glass (Love and Rockets) (Hardcover)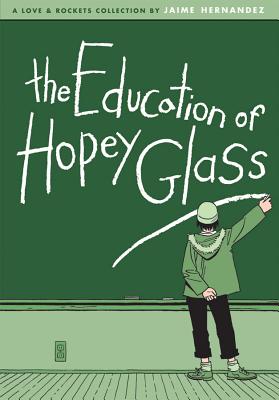 Other Books in Series
This is book number 24 in the Love and Rockets series.
Description
---
A stand-alone graphic novel from the Locas universe.

It starts with a barely-glimpsed slaying ("Life Through Whispers") and ends with a funeral ("Male Torso Found in L.A. River").
Even though (or perhaps because) he's still carrying the torch for Maggie, Ray diligently pursues the dangerous and annoying "Frogmouth," an aspiring actress and full-time train wreck, from seedy bars and back alleys through comic book conventions...all the way to the ultimate, and unexpected, consummation. Meanwhile, Hopey spends an eventful week during which she undergoes a couple of major life changes, both personal and professional...and for that matter cosmetic.
New characters include Hopey's long-suffering on-the-side squeeze Grace; Maggie's new roommate, the sweet-natured jockette "Angel of Tarzana;" and the live-wire would-be gangsta Elmer—while such classic
Love and Rockets
characters as the hard-living Doyle, the ageing but still-rocking Terry, and the mysterious super-heroine Alarma pop up in the margins...As does Maggie, well off stage but visible as Ray's resentful ex, Angel's roommate, and (forever and still) Hopey's best friend.
About the Author
---
Jaime Hernandez is an internationally acclaimed, award-winning (Will Eisner Hall of Famer; Harvey, Ignatz, and PEN Award-winner; L.A. Times Book Prize) cartoonist and a lifelong Los Angelean.
Praise For…
---
Every single panel can be pulled out and blown up into an arresting visual worthy of the inside covers of any book out there…Jaime Hernandez continues to be one of comics' great treasures.
— Comics Reporter

A beautiful Love & Rockets collection that serves as a great introduction to the series' most enduring characters — Hopey and Maggie.

— Anita Kinney - The Daily Vanguard

Jaime Hernandez's comics often provoke bursts of laughter – not necessarily because they're outright comedic, although they sometimes are, but because they're so ingeniously constructed.
— Douglas Wolk - The New York Times Book Review

In the turbulent slipstream between high 'n' low, Maggie and Hopey are the state of the art.
— R. C. Baker - The Village Voice

Hopey's maturation from punk rocker to reserved teacher's assistant will send any former punk reeling, while Ray's haunting tale of murder and lost love will leave you ruminating for days.
— Wizard