Organ Pipe Cactus National Monument Map (National Geographic Trails Illustrated Map #224) (Folded)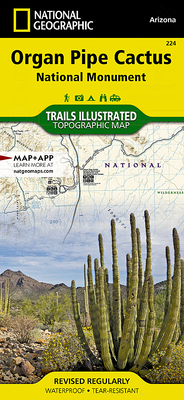 Organ Pipe Cactus National Monument Map (National Geographic Trails Illustrated Map #224) (Folded)
$14.95
Special Order—Subject to Availability
Other Books in Series
This is book number 224 in the National Geographic Trails Illustrated Map series.
- Waterproof - Tear-Resistant - Topographic Map
Located in southern Arizona along the Mexican border, Organ Pipe Cactus National Monument is home to beautiful cacti and other desert flora. Being primarily desert backcountry, good navigation tools are essential for both your safety and enjoyment while exploring. National Geographic's Trails Illustrated map of Organ Pipe Cactus National Monument was created in cooperation with the National Park Service and is the most comprehensive topographic map available. Crucial features such as contour lines, elevations, labeled peaks and summits, water features, selected waypoints and clearly labeled backcountry zones will aid your navigation off the beaten path.
For those preferring a less strenuous adventure, mapped hiking trails and a complete road network, including high-clearance and four-wheel drive roads, will lead you through the area. A hiking trail chart gives descriptions and distances for various routes. Roads are shown with roadside picnic areas, restrooms and other amenities. A flowering calendar shows the blooming periods of several desert flora. Included also are general safety tips, backcountry regulations and ethics, a temperature chart and contact information. The map covers the entire Organ Pipe Cactus, including Diablo, Bates and Puerto Blanco Mountains, Cipriano Hills, La Abra Plain, Valley of the Ajo and Sonoyota Valley, as well as parts of neighboring Tohono O Odham Indian Reservation, Cabeza Prieta NWR and the Mexican town of Sonoyota.
Every Trails Illustrated map is printed on "Backcountry Tough" waterproof, tear-resistant paper. A full UTM grid is printed on the map to aid with GPS navigation.
Other features found on this map include: Ajo Range, Organ Pipe Cactus National Monument.
Map Scale = 1:50,000Sheet Size = 25.5" x 37.75"Folded Size = 4.25" x 9.25"