Hellsgate, Salome, and Sierra Ancha Wilderness Areas Map [Apache-Sitgreaves, Coconino, and Tonto National Forests] (National Geographic Trails Illustrated Map #852) (Folded)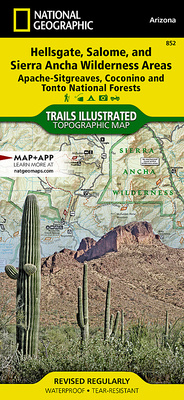 Hellsgate, Salome, and Sierra Ancha Wilderness Areas Map [Apache-Sitgreaves, Coconino, and Tonto National Forests] (National Geographic Trails Illustrated Map #852) (Folded)
$14.95
Special Order—Subject to Availability
Other Books in Series
This is book number 852 in the National Geographic Trails Illustrated Map series.
- Waterproof - Tear-Resistant - Topographic Map
One of the largest national forests in the United States, Tonto National Forest is known not only for its diversity of terrain, flora and fauna but also for its numerous recreational opportunities throughout the year. Expertly researched and created in cooperation with the U.S. Forest Service, Bureau of Land Management and others, National Geographic's Trails Illustrated map of Hellsgate, Salome, and Sierra Ancha Wilderness Areas provides unmatched detail of the northeast region of the forest along with nearby areas in Coconino and Apache-Sitgreaves National Forests. The map's coverage includes many popular recreation areas, including Roosevelt Lake and Wildlife Area, Woods Canyon and Willow Springs Lakes, Mogollon Rim Area and Sierra Ancha Mountains.
Whether you explore the region on foot, skis, bike, horseback or motorized vehicle, you can get off the beaten path and back on again by following the map to clearly marked trails, which are labeled according to their designated usage, as well as the numbered Forest Service roads. The Highline, General Crook and Arizona Trails are all highlighted. Your navigation of the area will be aided by the map's contour lines, elevations, labeled peaks and summits, water features, selected waypoints and clear boundaries between public, private and tribal lands. Recreation points of interest include campgrounds and primitive camp sites, trailheads, fishing areas, boat launch and river access points, interpretive trails and scenic viewpoints.
Every Trails Illustrated map is printed on "Backcountry Tough" waterproof, tear-resistant paper. A full UTM grid is printed on the map to aid with GPS navigation.
Other features found on this map include: Aztec Peak, Coconino National Forest, Four Peaks, Four Peaks Wilderness, Hellsgate Wilderness, Mazatzal Mountains, Payson, Salome Wilderness, Salt River Canyon Wilderness, Sierra Ancha, Sierra Ancha Wilderness, Sitgreaves National Forest, Sombrero Peak, Theodore Roosevelt Lake, Tonto Basin, Tonto National Forest.
Map Scale = 1:70,000Sheet Size = 37.75" x 25.5"Folded Size = 4.25" x 9.25"