The Salish Sea: Jewel of the Pacific Northwest (Paperback)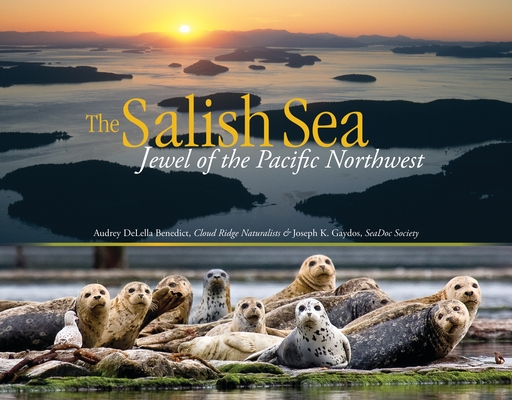 $24.95
Special Order—Subject to Availability
Description
---
Fashioned by the violent volcanism of the Pacific Rim of Fire, plate tectonics, and the sculptural magic wrought by Ice Age glaciers, the Salish Sea straddles the western border between Canada and the United States and is connected to the Pacific Ocean primarily through the Strait of Juan de Fuca. This fascinating visual journey through the Salish Sea combines a scientist's inquiring mind, beautiful photographs, and a lively narrative of fascinating stories, all of which impart a sense of connection with this intricate marine ecosystem and the life that it sustains.
About the Author
---
As Chief Scientist for the SeaDoc Society, Joseph K. Gaydos has been studying the fish and wildlife of the Salish Sea for over a decade. Gaydos lives on Orcas Island, WA.

Audrey DeLella Benedict is a biologist and a writer, and the founder and director of Cloud Ridge Naturalists, a nonprofit natural history educational organization now in its fourth decade. Audrey splits her time between the Colorado Front Range and her off-grid cottage on Frost Island in the San Juan Islands.
Praise For…
---
"Finally, a book that captures and celebrates the Northwest's inland sea! ...Instead of bemoaning what's been lost, these dazzling photos and earnest words showcase what remains."
—Jim Lynch, author of The Highest Tide

"Writer-scientists Audrey Benedict and Joseph Gaydos blend education with art and persuasion, describing the Sea's geology, ecology and history and documenting its extraordinary biodiversity. Dozens of gorgeous color photographs reveal its intricate beauty, and the book ends with a ringing call to action and a vision for protecting the region."
—High Country News

"Through maps, charts, satellite imagery, nature photography and writing, Benedict and Gaydos concoct an engaging presentation of the natural history of our 'jewel of the Pacific Northwest.' "—Cascadia Weekly 

"Dr. Joe Gaydos and Audrey D. Benedict have co-authored a book of captivating narrative and stunning photography through which readers can explore the wonders of the Salish Sea, our home."
—Orcas Issues  

"The Salish Sea is a feast for the eyes, a high-quality publishing effort rich in glossy colour photos and fascinating biological information that is likely to surprise even someone well-versed in our marine waters... The Salish Sea does a remarkable job of showcasing the ecological depth and diversity of our marine environment, providing not just knowledge but fueling a collective impetus to preserve it."
—The Vancouver Sun 

"The sobriquet, 'Jewel of the Pacific Northwest' is an apt description for the Salish Sea, that glittering body of water encompassing Puget Sound, the Strait of Juan de Fuca and the Strait of Georgia along the coast of Washington State and British Columbia. And this new coffee table volume from Sasquatch Books is also a jewel. Filled with breathtaking photographs and thoughtful commentary, The Salish Sea exceeds expectations for a coffee table book by diving deep into this beautiful - and complex - ecosystem. Authors Audrey DeLella Benedict and Joseph K. Gaydos share both their scientific insights and their obvious passion for this spectacular - and fragile - environment."
—Adventures NW

"...the book's inclusion of nearly 200 color images from more than four dozen photographers... enhance and inform the text more eloquently than I can describe – they are stunning illustrations of the magical place we call home."
—The Bellingham Herald

"Truly spectacular."
—The British Columbian Quarterly

"A wonderful celebration of the history, biology, beauty and vibrancy of The Salish Sea. This book makes a dynamic impact immediately with its incredible photography..."
—My Edmonds News