Nellie's Promise: 1906 (Hardcover)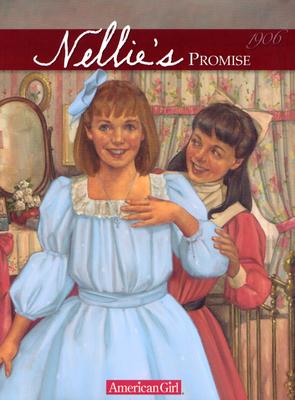 $12.95

Special Order—Subject to Availability
Description
---
- This is a companion book to the Samantha series. Samantha is one of the most popular and best-selling AGC characters. Readers who liked Samantha's stories will want to find out more about what happens to Nellie. It is definitely Nellie's story, but Samantha features prominently and emerges with new dimension in this story.
- This is a wonderfully told story about a much-loved secondary character that readers have asked us about for years.
- The Nellie doll that will be sold starting in July will help bring more attention to Nellie's Promise. The American Girl catalogue with the Nellie doll with reach millions of households, as does our website.
- Nellie will feature prominently in the Samantha movie in November 2004, so we expect that there will be renewed interest in everything related to Samantha.
- In addition to being a story about the tricky challenges of "best friends becoming sisters," this story provides a perspective on families and adoption at the beginning of the 20th century.
- Nellie's determination to keep her promise to her mother, to take care of her sisters, and to find her own path--even when it is different from Samantha's--demonstrates courage, integrity, and a sense of personal responsibility that girls will recognize and admire.