My Pencil and Me (Hardcover)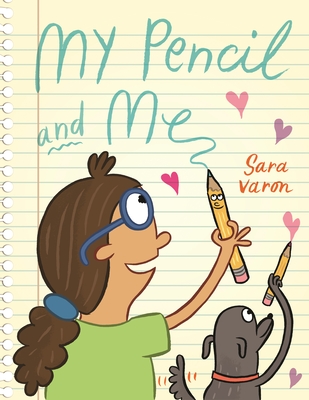 $18.99

In Stock—Click for Locations
Description
---
Sara Varon's My Pencil and Me is a playful picture book that's perfect for young artists, writers, and makers—especially if they struggle with confidence or writer's block.

Sara loves to draw and tell stories, but sometimes it can be difficult to get started. What if she doesn't have any good ideas or her drawings turn out terrible?!

Lucky for Sara, she has a friend who is always by her side—her pencil. With a little help from Pencil, Sara learns it's okay if her story isn't perfect, as long as she's using her imagination and having fun.
About the Author
---
Sara Varon is a printmaker, graphic novelist, and children's book author/illustrator living in Brooklyn. Her books include Odd Duck, Bake Sale, Robot Dreams, Chicken & Cat, Chicken & Cat Clean Up, Hold Hands, and My Pencil & Me. Her books have received many accolades--among others, Odd Duck was selected by Kirkus Reviews as one of the Best Children's Books of 2013, Bake Sale was named a YALSA Great Graphic Novel for 2012, and Robot Dreams was on Oprah's Kids' Reading List in 2008. In 2013 Sara Varon was a recipient of the Maurice Sendak Fellowship.
Praise For…
---
"The creative process—its pains, its joys, and its so-crazy-it-just-might-work moments—has found a thoroughly funny chronicler in Varon."—Publisher's Weekly

"The publication bit isn't a given, but her creative process offers a valid model for aspiring visual artists and writers searching for their own styles and stories. There's something to be gotten from the closing scenes, too, as artist and pencil exchange a high five...and then get back to the drawing board."—Booklist