Brazil, Rio de Janeiro [Map Pack Bundle] (National Geographic Adventure Map) (Folded)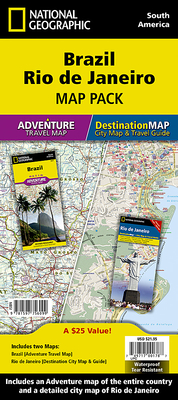 Brazil, Rio de Janeiro [Map Pack Bundle] (National Geographic Adventure Map) (Folded)
$21.95
Special Order—Subject to Availability
- Waterproof - Tear-Resistant - Travel Map
The Brazil Adventure Map is combined with a Rio de Janeiro Destination City map in this Map Pack bundle. The Brazil map is filled with interesting places to visit throughout this vast and wild country. From the white sand beaches with palm trees to the Amazon rain forest this map covers it all. Combine the Adventure Map of Brazil with a beautifully detailed map of Rio de Janeiro and you have the perfect travel companion for your trip to the land of the Amazon, Carnival, and Sugarloaf Mountain.
The Rio de Janeiro Destination City map combines a finely detailed map with fascinating and practical travel information. The map features a large-scale city map, richly layered with tourist and business travel locations and information. 3-D styled drawings provide you with instant identification of famous buildings and landmarks, making orientation easy and creating a unique keepsake of the visit.
Buy the Map Pack and save 15%
The Brazil, Rio de Janeiro Map Pack includes:
Adventure Map:: Brazil
Destination City:: Rio de Janeiro
Every Adventure Map and Destination City map is printed on durable synthetic paper, making them waterproof, tear-resistant and tough -- capable of withstanding the rigors of international travel.
Map Scale = 1:4,200,000 & 1:15,000Folded Size = 4.25 x 9.25