Gumballs (Paperback)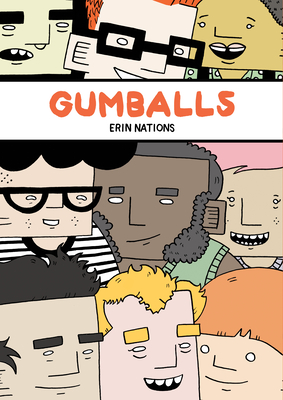 $19.99
In Stock—Click for Locations
Description
---
Discover the pioneering new comic from transgender cartoonist Erin Nations! Called by critics "funny, sincere, and just generally brilliant," Gumballs is a one-man variety show spanning graphic memoir, observational comedy, razor-sharp character studies, and so much more.

Gumballs dispenses an array of bright, candy-colored short comics about Erin's gender transition, anecdotal true tales of growing up as a triplet, and fictional stories of a socially inept lovestruck teenager named Tobias. The wide-ranging series is filled with single-page gag cartoons, visual diaries of everyday life, funny faux personal ads, and real-life horror stories of customers at his day job. Gumballs offers a variety of flavors that will surely delight anyone with a taste for candid self-reflection and observations of humanity.

Gumballs tips its hat to the classic alt-comic tradition of Eightball, Optic Nerve, and Box Office Poison, but speaks with a delightfully fresh voice for the modern age.

This book collects Gumballs #1-4, plus 32 pages of brand-new content!

Winner of the 2018 Dinky Award for Outstanding Work Showcasing Diversity
About the Author
---
Erin Nations is an illustrator and cartoonist living in Portland, Oregon. He graduated from SOU in 2005 and was accepted into the summer semester of Comics/Graphic Novel Certificate Program at the IPRC in 2013.

He has shown work locally at The Pony Club Gallery, Benjamin Benjamin, and Gigantic Gallery. Since 2014, he has self-published a handful of zines and his first comic, Twins-Triplet.

He is a frequent contributor to the quarterly comics newspaper Vision Quest and has been featured in Original Plumbing magazine. His comic book series Gumballs launched in December 2016, from Top Shelf.
Praise For…
---
WINNER OF THE 2018 DINKy AWARD FOR DIVERSITY!

"Fantastic." — Virginia Library Association Graphic Novel Diversity Awards

"Nations is a standout, portraying his experience with humor and honesty, and with distinctive, whimsical art." — Publishers Weekly, Top 10 Comics & Graphic Novels for Spring 2018

"No comic in 2017 spoke as deeply and personally while entertaining as Gumballs did. A mix of autobiographical comic strips about the author's journey as a trans man and other socially awkward funnies, Gumballs consistently delivered warmth, optimism in the face of challenge, and one of the finest printed publications around." — Comicosity

"Gumballs is funny, sincere, and just generally brilliant — when dealing with autobiography, fake personal ads, or any number of other events. Nations is a promising new voice in comics, and you need to read Gumballs." — ComicsVerse

"Gumballs lays bare a lot of serious, complicated stuff and presents it with a frankness and humor that really moved me to my core." — Multiversity Comics