The Complete Peanuts 1961-1962: Vol. 6 Paperback Edition (Paperback)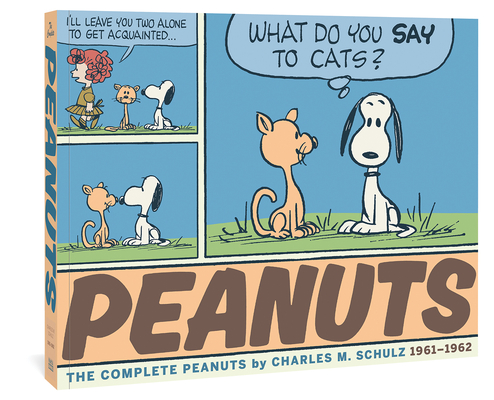 Description
---
Vol. 6 introduces Frieda and her cat Faron; Sally starts kindergarten and joins Linus's Great Pumpkin vigil; and much more.
Though the long-running hardcover
Complete Peanuts
series concludes this season, the paperbacks launch into the 1960s! Schulz adds two new cast members: The obnoxious Frieda, of "naturally curly hair" fame, and her inert, seemingly boneless cat Faron. The rapidly maturing Sally, who was just born in the previous volume, is ready to start kindergarten and not at all happy about it. Linus' life is particularly turbulent, as he is forced to wear glasses, sees the unexpected return of his beloved Miss Othmar, and coaxes Sally into the cult of the Great Pumpkin (with regrettable results). Snoopy, meanwhile, becomes a compulsive water sprinkler head stander, unhappily befriends a snowman or two, and endures a family crisis involving a little family of birds. Plus baseball blowouts (including a rare team victory), Beethoven birthdays, and plenty of dubious psychiatric help for a nickel.
About the Author
---
Charles M. Schulz was born November 25, 1922, in Minneapolis. His destiny was foreshadowed when an uncle gave him, at the age of two days, the nickname Sparky (after the racehorse Spark Plug in the newspaper strip Barney Google). His ambition from a young age was to be a cartoonist and his first success was selling 17 cartoons to the Saturday Evening Post between 1948 and 1950. He also sold a weekly comic feature called Li'l Folks to the local St. Paul Pioneer Press. After writing and drawing the feature for two years, Schulz asked for a better location in the paper or for daily exposure, as well as a raise. When he was turned down on all three counts, he quit.
He started submitting strips to the newspaper syndicates and in the spring of 1950, United Feature Syndicate expressed interest in Li'l Folks. They bought the strip, renaming it Peanuts, a title Schulz always loathed. The first Peanuts daily appeared October 2, 1950; the first Sunday, January 6, 1952. Diagnosed with cancer, Schulz retired from Peanuts at the end of 1999. He died on February 13, 2000, the day before Valentine's Day-and the day before his last strip was published, having completed 17,897 daily and Sunday strips, each and every one fully written, drawn, and lettered entirely by his own hand — an unmatched achievement in comics. 
Jazz pianist and singer Diana Krall's albums include The Look of Love, The Girl in the Other Room, From This Moment On, Quiet Nights and more. She has sold more albums than any other female jazz artist during the 1990s and 2000s. and is the the only jazz singer to have eight albums that debuted at the top of the Billboard Jazz Albums. She has won multiple Grammy Awards and  Juno Awards.