What You Always Wanted: An If Only novel (If Only...) (Paperback)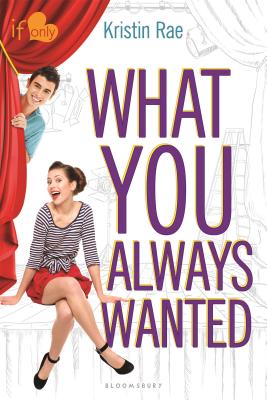 $9.99

Special Order—Subject to Availability
Description
---
Enjoy What You Always Wanted and the other standalone titles in Bloomsbury's contemporary If Only romance line centered around an impossible problem: you always want what you can't have!

Maddie Brooks has always had high standards for guys. But she has yet to find one who can live up to the romantic, classic Hollywood heartthrobs, especially the dreamy song-and-dance man Gene Kelly. When Maddie begins to carpool with Jesse Morales, her new neighbor and star pitcher of the high school baseball team, she's immediately struck by his wit, good looks, and love for his family--but a guy so into sports is definitely not her style. Then Maddie discovers that Jesse was raised a dancer and still practices in the community theater dance studio to keep in shape. Perhaps her perfect dream guy exists after all. But when it becomes clear that baseball--not dance--is Jesse's passion, can Maddie find a way to let her dream guy go and appreciate the charms of the amazing guy in front of her?
About the Author
---
Kristin Rae is the author of If Only line title Wish You Were Italian and was born and raised in Texas though her accent would suggest otherwise. She's addicted to books, music, movies, crafty things, and chocolate. A former figure skating coach, LEGO merchandiser, and photographer, she's now happy to create stories while pretending to ignore the carton of gelato in the freezer. Kristin lives in Houston, Texas, with her husband, daughter, and their two boxers.
@kristincreative
www.kristinrae.com
Praise For…
---
"Rae's (Wish You Were Italian, 2014) second novel in the If Only series proves that she knows her teen audience well, delivering a story that is well-paced, engaging, and enjoyable . . . snappy dialogue and compulsively readable prose render the characters fresh and the situations entertaining. Sure to please any teen who loves the arts or dreams of musical-style romance." —Kirkus Reviews
"Sweet, sassy, and authentically teen, What You Always Wanted deftly navigates friendship, family, and first love. Maddie is sure to dance her way into readers' hearts." —Rachael Allen, author of 17 FIRST KISSES and THE REVENGE PLAYBOOK
"Rae is the master of swoon with just the right amount of sweetness. You can't help but fall for Maddie and Jesse. A fun, adorable romance that will keep you smiling." —Liz Czukas, author of ASK AGAIN LATER and TOP TEN CLUES YOU'RE CLUELESS
"Enjoyable--an ideal beach read." —Kirkus Reviews for WISH YOU WERE ITALIAN
"This breezy, envy-inducing romance opens the If Only series." —Publishers Weekly for WISH YOU WERE ITALIAN
"Rae's debut novel is a breezy, fluffy summer read full of dreamy romance." —Booklist for WISH YOU WERE ITALIAN