How the Poor Can Save Capitalism: Rebuilding the Path to the Middle Class (Hardcover)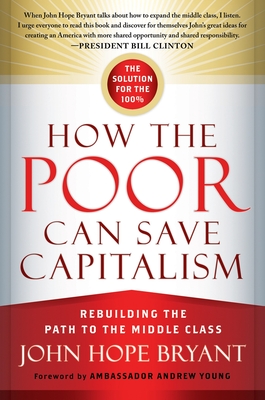 $24.95

Special Order—Subject to Availability
Description
---
John Hope Bryant, successful self-made businessman and founder of the nonprofit Operation HOPE, says business and political leaders are ignoring the one force that could truly re-energize the stalled American economy: the poor. If we give poor communities the right tools, policies, and inspiration, he argues, they will be able to lift themselves up into the middle class and become a new generation of customers and entrepreneurs.

Raised in poverty-stricken, gang-infested South Central Los Angeles, Bryant saw firsthand how our institutions have abandoned the poor. He details how business loans, home loans, and financial investments have vanished from their communities. After decades of deprivation, the poor lack bank accounts, decent credit scores, and any real firsthand experience of how a healthy free enterprise system functions.

Bryant radically redefines the meaning of poverty and wealth. (It's not just a question of finances; it's values too.) He exposes why attempts to aid the poor so far have fallen short and offers a way forward: the HOPE Plan, a series of straightforward, actionable steps to build financial literacy and expand opportunity so that the poor can join the middle class.

Fully 70 percent of the American economy is driven by consumer spending, but more and more people have too much month at the end of their money. John Hope Bryant aspires to "expand the philosophy of free enterprise to include all of God's children" and create a thriving economy that works not just for the 1 percent or even the 99 percent but for the 100 percent. This is a free enterprise approach to solving the problem of poverty and raising up a new America.
About the Author
---
John Hope Bryant is an entrepreneur, author, and advisor and one of the nation's most recognized empowerment leaders. He is the founder, chairman, and CEO of Operation HOPE and Bryant Group Companies. Recognized as one of Time magazine's "50 for the Future" leaders, Bryant is the author of Love Leadership and is the only African-American bestselling business author. He served as chairman of the President's Advisory Council on Financial Capability, Subcommittee on the Underserved and Community Empowerment, and was appointed by President Obama in 2014 as a member of the President's Advisory Council on Financial Capability for Young Americans. He is also cofounder of the Gallup-HOPE Index, the only national research poll on youth financial dignity and youth economic energy in the United States.
Praise For…
---
"John Bryant is what I call a practical idealist who dreams big and then moves with precision to action. He reminds us of the age old adage, 'if you give a man a fish, you feed him for a day, but if you teach him how to fish, you feed him for a lifetime' because he or she now has the skills and knowledge to become self-determined. One of the few and best plans for addressing poverty is outlined in this book. It lays out a clear and actionable path to address some of the issues that led my father to call for a poor people's campaign shortly before his assassination. You will have a different perspective on poverty and 'poor people' when you finish reading this book and realize that in order to secure our economy, we must ensure that everyone is given a fair and just opportunity to prosper."
—Dr. Bernice A. King, daughter of Martin Luther King, Jr., and CEO, The King Center

"We cannot win the war for good jobs without the inclusion of and capacity building of the poor—this book shows the way and makes a personal, moral, and chiefly economic argument for how the poor can save capitalism."
—Jim Clifton, Chairman and CEO, Gallup, and author of The Coming Jobs War

"John and I want the same things. And the goals of this book are the same goals of my Rebuild the Dream campaign. He has provided the road map to economic recovery for this country at a time when economic inequality is at its peak. I, for one, will be following the steps laid out in the HOPE Plan."
—Van Jones, former Presidential Advisor to Barack Obama and current host of CNN's Crossfire

"I've known John for a number of years, and hope isn't just his middle name or the name of the organization he founded, it's what he spreads to everyone he encounters. In this book, John articulately describes actionable ways to connect those who are currently disconnected from the economy and in the process provide opportunity for the poor and the business community simultaneously. These practical and innovative suggestions to the private (and public) sector should be heeded and implemented by CEOs across the country."
—Duncan L. Niederauer, CEO, New York Stock Exchange

"John Hope Bryant offers a compelling argument to build both capitalism and communities through the advancement of financial literacy among the poor and middle class. With the vision that all people should have the opportunity to participate fully in our economy, he enlivens the American dream."
—William H. Rogers, Jr., Chairman and CEO, SunTrust Banks, Inc. Current Affairs/Business

"This book does not attempt to explain all of the economic inequality that exists in today's society but instead imagines solutions. The weakness of most theories on resolving inequality is that they do not speak to the imagination. John Bryant speaks to our imagination and delivers an inspiring message for young people that imagination and self-determination are the only tools needed to change the world. A critical reminder for Americans that there is no finality to being poor."
—Philippe Bourguignon, Vice Chairman, Revolution Places; CEO, Exclusive Resorts; and former co-CEO, World Economic Forum

"Economic immobility is the defining issue of America in the 21st century. John Hope Bryant makes an engaging case for why we must make our economy work for everyone. How the Poor Can Save Capitalism is a must-read for business leaders, policymakers, and community leaders who want to make the American Dream a reality for all our children."
—Ben Jealous, former CEO, NAACP

"John Hope Bryant's brilliant new book is the key to making capitalism work for everyone. Bryant writes from his heart and his personal experience as a former homeless person who has become enormously successful by investing $500 million to help the poor become financially literate and financially successful. Bryant's strategy and his humanity can transform society and heal the wounds that keep us apart."
—Bill George, Professor of Management Practice, Harvard Business School, and author of True North

"Bryant's offering is a critically thought-out, comprehensive, and clearly articulated remedy that will advance our suffering and stymied community. And it's written beautifully and boldly from a perspective of deep understanding and compassion and a heart full of love."
—Susan Taylor, former CEO, Essence magazine, and current CEO, National CARES Mentoring Movement

"This book sets out a clarion call for dramatically increasing the financial capability of the undeserved and through that step encouraging their native-born instincts of entrepreneurship. Setting forth real-world examples of success from the great works of Operation HOPE, John Hope Bryant puts forth a common-sense game plan, which, if followed, will provide a better future for our nation. Let's go!"
—Richard Ketchum, CEO, FINRA

"John Hope Bryant is the essence of his middle name: Hope. A planter of the same, he invites us to cultivate by seeding hope, investing in hope, nurturing hope, and harvesting hope. He extols not a hand out, but a hand up. And what is the rope that pulls us upward? It is hope, hope such as seen in the middle class, the upward spiral that determines and differentiates between 'rich' or 'poor.' Self-determination is the new definition of freedom, and both are dependent on financial literacy. The latter provides the quartet of harmony: education, self-esteem, real choice, and real opportunity for all. This is the essence of hope. The author may be summarized in his own words: The hope factor, then, is a good job and a shot at aspirational success. Our major issue today is not so much about race, the color line, or social strife as it is about class and poverty. Let the people say amen."
—Rev. Cecil L. "Chip" Murray, former Pastor, First African Methodist Episcopal Church, Los Angeles, and Tansey Chair, Center for Religion and Civic Culture, USC

"John Hope Bryant has set out to save America by returning her to the nation's founding idea—a sustainable, growing middle class that serves as a beacon to others, a light on the hill. That's just not possible while 80 percent of the population has only 7 percent of the money. But Bryant has a plan to make free enterprise work for the poor, by providing mentors, building dignity and confidence, and enabling access to money and financial literacy. It's the right idea at the right time."
—Sean Cleary, Member of the Board, The Abraaj Group, and Vice Chair, FutureWorld Foundation

"John Hope Bryant's third book is finely focused on the causes of the dearth of financial literacy and the needed tactics to improve it through education and inspiration of both adults and children in the United States and other countries. A financially educated and inspired public will make better decisions in both their personal and working lives, which will yield a stronger economy and more broad-based opportunities for everyone. While I certainly don't agree with the positions of some of the people noted in the book, the achievement of John Hope Bryant's recommendations will likely require the broadest possible participation and support. This book proposes solutions, goals, and opportunities for us all to be part of the needed work."
—Jim Wells, former CEO, SunTrust Banks

"The greatest leaders of America have been about dignity. Abraham Lincoln ended slavery, but less known is that just before his death he founded the Freedman's Savings Bank to empower former slaves economically. Martin Luther King, Jr., was not only about civil rights—he was assassinated when he started his Poor People's Campaign for all races. In this book, John Hope Bryant lays out an inspiring and concrete plan on how to realize the unfinished vision of Lincoln and King. This book is not only to be read but to be implemented. This book operationalizes dignity in the economic field."
—Professor Pekka Himanen, cofounder, Global Dignity

"John Hope Bryant's work on the flaws of capitalism and what can be done about them not only is very timely but also responds to a growing global hunger for a more responsible and equitable model. His accessible style, personal reflection, and heartfelt commitment to driving change make this a must-read for all those who care about the future and a practical guide for policymakers and leaders. For too long we have overlooked our interdependency and the true value of human capital—Bryant makes an eloquent and rational call for us to put poverty and inequality right back at the top of the agenda."
—Clare Woodcraft, CEO, Emirates Foundation