The Sinking of the Vasa: A Shipwreck of Titanic Proportions (Hardcover)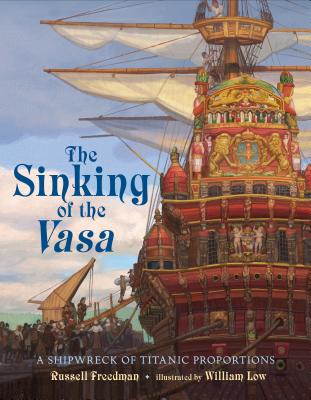 $18.99

Not On Our Shelves—Ships in 1-5 Days
Description
---
In full sail with flags flying, the mighty warship capsized and began to sink.

This is the saga of the great Swedish warship, the Vasa. Built to be the crown jewel of the Swedish Navy, the Vasa capsized not a mile into her maiden voyage in 1628—a tragedy resulting in many deaths and great loss. But who was to blame? Award-winning author Russell Freedman explores the history of this ship, and her resurrection from the seas in 1961. William Low's gorgeous illustrations bring The Sinking of the Vasa to life.
- GODWIN BOOKS -
About the Author
---
Russell Freedman is the author of many award-winning books for children, including Newbery Medal winner Lincoln: a Photobiography, and Newbery Honor books Eleanor Roosevelt: A Life of Discovery and The Wright Brothers: How They Invented the Airplane. He lives in New York City.

William Low is the author and illustrator of Chinatown and Old Penn Station, as well as a four-time Silver Medal winner at the Society of Illustrators.
Praise For…
---
"Underwater scenes depict exciting salvage efforts and include a breathtaking gatefold of the Vasa being lifted to the surface... A richly crafted work of history for upper elementary schoolers." —School Library Journal, starred review, on The Sinking of the Vasa
"A magnificent tribute to a magnificent folly." —Booklist on The Sinking of the Vasa
"This winning combination of engrossing narrative and evocative illustration should appeal to fans of shipwreck stories, history, and undersea archaeology." —The Horn Book on The Sinking of the Vasa
"Light-infused scenes bathed in aquamarine hues, including a clever gatefold of the ship's remains being lifted toward the surface, are remarkably lifelike in perspective and scale, and realistic moments (glinting fish scales, the bulky folds of a diver's suit) complement the detailed storytelling." —Publishers Weekly on The Sinking of the Vasa
"Low's digital illustrations are sumptuous and stunning, and they could pass for traditional paintings." —Kirkus Reviews on The Sinking of the Vasa

"A highly readable and well-documented overview of a fascinating aspect of World War II." —School Library Journal, starred review, on We Will Not Be Silent
"Among the wealth of good Holocaust literature available, Freedman's volume stands out for its focus and concision, effectively placing the White Rose in its historical context, telling the story of Nazi Germany without losing the focus on the White Rose, and doing so in just over 100 pages." —Kirkus Reviews, starred review on We Will Not Be Silent
"Thoroughly researched, with numerous archival photos, this well-told story of the White Rose opposition unfolds chronologically and with building suspense." —Publishers Weekly, starred review on We Will Not Be Silent