Frommer's Hawaii (Complete Guides) (Paperback)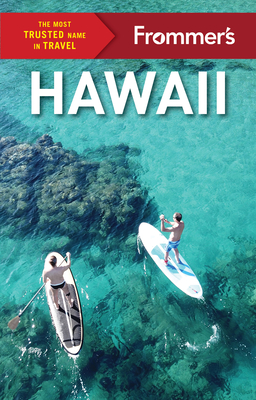 $26.95
In Stock—Click for Locations
Description
---
Comprehensive and completely up-to-date, Frommer's Hawaii covers all the major Hawaiian islands, and takes you from world-famous beaches to secluded rain-forests and everywhere in between. Frommer's expert authors―both journalists who specialize in Hawaii―know every inch of the islands and they're not afraid to tell the truth. With their reliable, straight-shooting advice, you'll be snorkeling in palm-fringed lagoons, catching the sunrise over a soaring volcano, relaxing on postcard-ready beaches, and experiencing Hawaii's rich cultural traditions and innovative regional cuisine―everything you need for an unforgettable trip. Frommer's Hawaii contains:
- Full-color maps and photos, including a handy pullout map
- Detailed itineraries for planning a trip to suit your interests and make the most of your time
- Authentic experiences honoring Hawaii's diverse topography, cultural traditions, food, and customs
- Outdoor adventures for travelers of all ages and skill levels to explore the islands' jungles, beaches, seas and mountains
- Opinionated reviews of the best restaurants, tours, shops, attractions and hotels―and the ones to avoid
- Accurate, up-to-date info on transportation, useful websites, telephone numbers, and other resources you'll need
- Money-saving tips and exact pricing for travelers on any budget―from backpacker to luxury About Frommer's: There's a reason Frommer's has been the most trusted name in travel for more than 60 years. Arthur Frommer created the best-selling guide series in 1957 to help American servicemen fulfill their dreams of travel in Europe, and since then, we have published thousands of titles, become a household name, and helped millions upon millions of people realize their own dreams of seeing our planet. Travel is easy with Frommer's.
About the Author
---
Martha Cheng came to Hawaii for a boy and stayed for its food, ocean, and people. She is the former food editor of Honolulu Magazine and now writes feature stories for local and national publications on everything from squash farms in Waimea to fly fishing in Maui. Originally from San Francisco, she's a former pastry chef, line cook, food truck owner, Peace Corps volunteer and Google techie. These days, she surfs, eats and writes.Jeanne Cooper is the former travel editor of the San Francisco Chronicle, for whom she writes frequently about Hawaii. Her stories about the islands have also appeared in other Hearst-owned newspapers, magazines and websites; Sunset magazine; and Elsewhere, a Sydney media portal. Before helping relaunch Frommer's Hawaii, she contributed to guidebooks on San Francisco, Boston and Washington, D.C., for several different publishers. A resident of California and the Big Island, she was inspired to study hula by her mother, who lived in Hawaii before statehood.