Zombie Abbey (Paperback)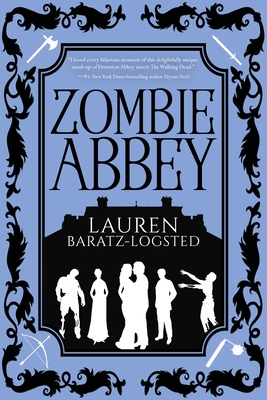 Description
---
1920, England
And the three teenage Clarke sisters thought what they'd wear to dinner was their biggest problem…
Lady Kate, the entitled eldest.
Lady Grace, lost in the middle and wishing she were braver.
Lady Lizzy, so endlessly sunny, it's easy to underestimate her.
Then there's Will Harvey, the proud, to-die-for—and possibly die with!—stable boy; Daniel Murray, the resourceful second footman with a secret; Raymond Allen, the unfortunate-looking young duke; and Fanny Rogers, the unsinkable kitchen maid.
Upstairs! Downstairs! Toss in some farmers and villagers!
None of them ever expected to work together for any reason.
But none of them had ever seen anything like this.
About the Author
---
LAUREN BARATZ-LOGSTED is the author of more than a dozen books for adults and young readers, including The Twin's Daughter, Crazy Beautiful, and the Sisters 8 series, which she cowrites with her husband and daughter.
Praise For…
---
5 stars: "I loved every hilarious moment of this delightfully unique mash-up of Downton Abbey meets The Walking Dead." —Alyson Noël, #1 New York Times bestselling author
5 stars: "Highbrow British aristocracy meets The Walking Dead in this tongue-in-cheek tale, a historical and modern mash-up." —Wendy Higgins, New York Times bestselling author of Sweet Evil
5 stars: "More scandalous fun than Downton Abbey, Zombie Abbey is a glorious and zany romp with the undead." —Tasha Alexander, New York Times bestselling author of The Counterfeit Heiress

5 stars: "Funny and captivating, romantic and horrifying, Baratz-Logsted's fast-paced story will leave readers clamoring for more exciting adventures from their new favorite foursome" —Karen Dionne, author of The Marsh King's Daughter
5 stars: "Lauren Baratz-Logsted proves once again that she is one of the most versatile and prolific authors out there. She could write (and often does) in any genre and I'd gobble it up!" —Renée Rosen, bestselling author of What the Lady Wants
5 stars: "A delight, pure and simple, from page one. Is there any kind of novel, for any age group, that Baratz-Logsted [...] can't write? Not that I can tell..." —Jon Clinch, author of Finn
5 stars: "Fantastic read! Sharp, funny, swoony, and guaranteed to scratch both your Zombie and your Downton Abbey itches. I loved it!" —Danielle Younge-Ullman, author of Everything Beautiful is Not Ruined
5 stars: "I really enjoy Lauren Baratz-Logsted's books, and this one is a fun read-- reminded me a lot of Downton Abbey, but with a twist. It was a bit like Pride and Prejudice and Zombies, but to my mind, this one was better!" —Nora Carroll, author of The Color of Water in July
5 stars: "I just love a good zombie story and Lauren Baratz knows how to write one. I felt so many emotions,funny, scared, thrilled." —Karen Dinisi, author of A Vacation from Hell
5 stars: "Do you love British drawing room romance and repartee? Check! Do you love the unrelenting suspense of a good zombie attack? Check! Do you love complex characters and a plot full of surprises and twists? Check!" —Andrea Schicke Hirsch, author of Sasquatch
5 stars: "Lauren Baratz-Logsted never ceases to amaze me with her ability to write convincing characters, juicy plots and extraordinary settings. Her latest, ZOMBIE ABBEY, mashes up the setting and characters of TV's Downton Abbey with a cast of zombies for a memorable romp through Edwardian England." —Carolyn Burns Bass, author of Sarah's Sacrifice
5 stars: "In Zombie Abbey, Lauren Baratz-Logsted brings us a very clever, funny and heartfelt tale of manners, class distinction, women coming into their own power…and zombies, of course." —Outlaw Poet, Goodreads Reviewer
5 stars: "A little bit of Pride and Prejudice, a little bit of Dark Days Club and very much in the vein of Downton Abbey, this book is very much for fans of any of these three. Luckily, I happen to love all three. This book was a delight, the characters vibrant in their own way, and the gore delightfully ghastly." —Claire, Claire M. Andrews Books

5 stars: "Looking for your next Downton Abbey fix? With a few zombies thrown is? Well, look no further than this campy mashup of a Downton-like world and Walking Dead!" —Ruth Rugoff, Goodreads Reviewer
5 stars: "Very clever and funny; I felt myself chuckling as I read." —Tami, Goodreads Reviewer
5 stars: "Whenever I pick up a book by Lauren Baratz-Logsted, I know I'm in for a good read, and Zombie Abbey is no exception! Lauren is a creative and inventive storyteller and she always has a unique and fresh slant to her stories." —Lauren, Goodreads Reviewer

5 stars: "This kind of reminded me of Pride and Prejudice and Zombies! I think that all classic novels should have zombies in them to be honest! It adds some spice!" —Taylor, Goodreads Reviewer
5 stars: "It's a entertaining, fun read. Think British humor and campy horror mixed together. It is not like anything else on the young adult shelves right now." —Kat, Skip to the Best of Young Adult Literature
5 stars: "What a wonderful yarn! This telling respects the Edwardian upper-crust life in the midst of their entire world about to be totally upended. Traditions, customs, and all things chiefly British are given the consideration that a Downton fan would anticipate." —Rob Mayette, Goodreads Reviewer
5 stars: "I am in love with this book and I highly recommend checking it out!" —Madison, Stylish Brunette
"This part zombie romp, part historical fiction, and part romantic comedy will delight readers...witty dialogue keeps pages turning..." —School Library Journal