60 Hikes Within 60 Miles: Washington, D.C.: Including Suburban and Outlying Areas of Maryland and Virginia (Paperback)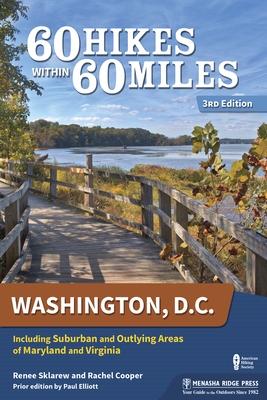 $21.95
In Stock—Click for Locations
Description
---
From Downtown through the suburbs to the mountains in the west and the marshlands in the east, the Washington metro area has something to offer anyone looking for a good hike.
Part of the most comprehensive hiking series in print, the full color 3rd edition of 60 Hikes Within 60 Miles: Washington, D.C. is a complete revision by local travel writers Rachel Cooper and Renee Sklarew. The new issue features a wider collection of trails specifically designed for day trips. With options that range from easy to challenging, families and serious hikers will find both inspiration and detailed information to guide their exploration of the many trails within roughly an hour's drive of the metro area.
Get the most up-to-date hiking information in the new edition, including: 23 new hikes, including metro and wheelchair accessible trails Revised routes with many loop trails Updated maps and new photos now in full color Detailed directions and information about hours, facilities, and restrictions Descriptions of flora and fauna hikers are likely to see Options for additional activities and points of interest nearby
Readers looking for new places to explore will discover a bounty of sites, some well-known and beloved, while others remain hidden gems ripe for exploration.
About the Author
---
Renee Marchese Sklarew is a native Washingtonian who enjoys exploring her city's many attractions, including its parks and trails. As a young girl, her father received a temporary assignment that took her family to Switzerland, and that's where she began her passion for hiking and exploring. Today, her family makes surveying nature's wonders a priority, and they love visiting America's National Parks. Renee regularly contributes travel articles and photos to newspapers and magazines, including the Washingtonian, Northern Virginia Magazine, Boston Globe, and Washington Post. She is co-author of The Unofficial Guide to Washington DC and Fodor's Washington DC Guidebook. Recently, she joined the team of "Oh Ranger!" editing guides to national, state, and local parks. Renee hopes readers will use 60 Hikes Within 60 Miles: Washington D.C. to discover new trails and meaningful destinations. Rachel Cooper is a freelance writer and has been the Washington, D.C., Expert for About.com (now TripSavvy.com) since 2004. Rachel is also the author of the book Images of Rail - Union Station in Washington, D.C., and has written numerous articles for local and regional publications. She especially enjoys outdoor recreation, including hiking, biking, skiing, kayaking, and stand-up paddle boarding. She met her husband, Brian, through a local windsurfing club, and they have spent more than 25 years together seeking new adventures as they travel across the region and around the world. Paul Elliott works as a writer/editor and plays primarily as a social and solo hiker. He has been leading hikes year-round in the Washington metro area and beyond since 1990, most recently for the Sierra Club and Appalachian Mountain Club. His forte is getting people with a taste for adventure to sample the pleasures and surprises of the area's remarkable array of hiking opportunities.