I Brushed My Hair Today: A Mom Journal for Mostly Together Moms (Paperback)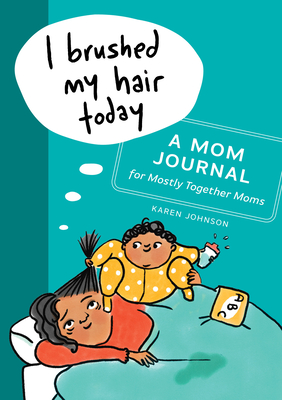 $13.99

Not On Our Shelves—Ships in 1-5 Days
Description
---
A SURVIVAL JOURNAL FOR MOMS
You wonder on a daily basis whether you gave birth to a tiny human or a wild animal. Your house looks like it has been turned upside down. You've forgotten your own name three times--and that's just today. Why? BECAUSE BEING A MOM IS HARD WORK. The next time you need to take a breather, grab this mom journal and laugh off every crazy and lovable moment of parenting.
I Brushed My Hair Today is a mom journal designed to help you decompress from the hard work of being a parent with humor and the support of women who are right there in the trenches with you. Let off steam with prompts that keep it real and laugh out loud quotes. This mom journal is a judge-free space to tell your mommyhood survival story.
With this mom journal, you will:
Record the highs and lows--Start journaling with questions about what it's really like to be a mom--the unfiltered version.
Mom truths you'll LOL over--Find solidarity with "wise" words from women just like you who have lived to tell the tale.
Find some me time--Jot down a few lines when you can. This mom journal helps you find the space to start and finish a sentence.
Being a mom is FULL of surprises--joyous and sometimes the kind that make you want to pull your hair out. No matter what comes your way, this mom journal gives you a place to let it out.
About the Author
---
KAREN JOHNSON (known at home as Mommyyyyyy!! and Moooooom!!), is a former English teacher, turned stay-at-home mom, turned writer on all things parenthood-some funny, some heartfelt. In her free time (haha, yeah right) she enjoys traveling with her family, reading, exercising, and then undoing her entire workout by drinking beer and eating pizza.