The Secrets of Tutankhamun: Egypt's Boy King and His Incredible Tomb (Hardcover)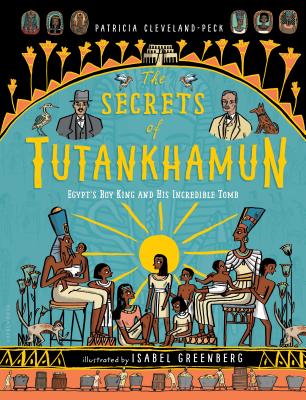 $18.99
In Stock—Click for Locations
Description
---
Tutankhamun was born in a time of change. His father, Atakhenaten, instituted broad political and religious reform to Egypt, and his laws were controversial. By the time Tut turned nine, his whole family had died and he was named the youngest king Egypt had ever had. His rule was short and tumultuous, and around age nineteen, Tut died. More than three thousand years later, Howard Carter, a British archaeologist with a penchant for ancient history and a special skill for excavation in Egypt's Valley of the Kings, made a discovery that shocked the world: King Tut's tomb, long ago assumed destroyed, not only survived but was fully intact. The treasures within gave a stunning and undisturbed perspective on ancient Egyptian culture and uncovered secrets that fascinated the world.

With comprehensive text and stunning illustrations from a New York Times bestselling illustrator, The Story of Tutankhamun is a compelling look at the life and legacy of the famed boy king.
About the Author
---
Patricia Cleveland-Peck has published 16 children's books and 4 adult non-fiction books in the United Kingdom. She has compiled programs for the BBC and had 2 radio plays and 1 stage play performed. As her day job, she works as a travel journalist specializing in gardens abroad.

Isabel Greenberg is an award-winning London based illustrator, comic artist and writer. She has had two graphic novels published, The Encyclopedia of Early Earth and The One Hundred Nights of Hero. Isabel has worked with a variety of clients including The Guardian, Nobrow Press, The National Trust and the New York Times.
Praise For…
---
"Cleveland-Peck admirably distills the events surrounding the life, death, and discovery of the pharaoh Tutankhamun. . . . This well-balanced, engaging book is a great entry into studies of the boy king." —Booklist

"Cleveland-Peck inserts homely details and forensic evidence that wraps Tutankhamun's brief life and sudden demise in layers of sympathy. . . . [A] handsome presentation." —Kirkus Reviews

"Investigate along with the men and women who dedicated years of study and exploration to unlocking [King Tut's] secrets, discover how a mummy is made, decode ancient hieroglyphics, and beware the curse!" —Foreword Reviews

"The language is easy to read and somewhat conversational . . . The cartoon illustrations are well done and add to the appeal." —School Library Journal