Dinosaurs: A Spotters Guide (A Spotter's Guide) (Hardcover)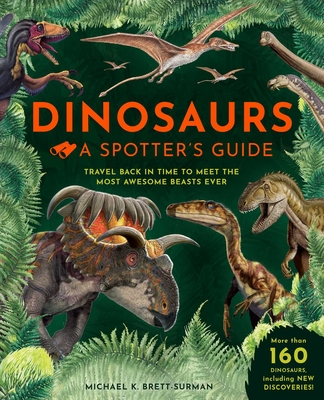 $19.99

Coming Soon—Pre-Order Now
Description
---
Travel back in time to a world millions of years before humans to become a dinosaur spotter.

Are you ready to meet the most awesome beasts of all time? Step into a prehistoric world where dinosaurs rule the land. This spotter's guide gives you the essential information on what to look out for as you roam the ancient continents.

There are more than 160 different dinosaurs to spot, including the latest discoveries. An A-Z fact file makes this book very easy to use. There are top tips to keep you safe, hundreds of facts and figures, and a pronunciation guide for each dinosaur.
About the Author
---
Weldon Owen is an imprint of Insight Editions, a publisher of illustrated books on photography, music, and popular culture. Elegant and informative, their books showcase the best of art, photography, and design in exquisite presentations of the bookmaker's craft. They are located in San Rafael, CA.

Michael K. Brett-Surman is a noted paleontologist and is currently serving as the Museum Specialist for Dinosaurs, Fossil Reptiles, and Amphibians at the National Museum of Natural History of the Smithsonian Institution. He also co-teaches a K-12 geoscience teacher field series of three courses in geology and paleontology through the Bighorn Basin Geoscience Center, which is part of the Smithsonian Outreach program. He is the author of The Jurassic World Field Guide to Dinosaurs with Dr. Thomas R. Holtz, Jr., and the coeditor of The Complete Dinosaur.