Is This How You See Me?: A Locas Story (Love and Rockets) (Hardcover)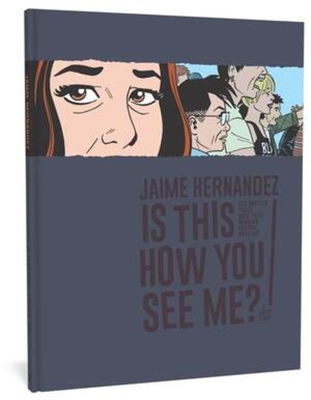 $19.99
In Stock—Click for Locations
Description
---
In the follow-up to the LA Book Prize-winning The Love Bunglers, the Locas get the band back together—literally.
Maggie and Hopey leave their significant others at home and take a weekend road trip to go to a punk scene reunion in their old neighborhood. Threaded throughout are flashbacks to 1979, during the formative stages in their lifelong relationship, as the perceived invincibility of youth is juxtaposed against all of the love, heartbreak, and self-awareness that comes with lives actually lived. Serialized over the past four years in
Love and Rockets: New Stories
and the new comic book series,
Is This How You See Me?
collects Hernandez's unsentimental, long-form masterpiece together for the first time.
About the Author
---
Jaime Hernandez is an internationally acclaimed, award-winning (Will Eisner Hall of Famer; Harvey, Ignatz, and PEN Award-winner; L.A. Times Book Prize) cartoonist and a lifelong Los Angelean.
Praise For…
---
Love and Rockets [is] the rare pop cultural artifact that renders Latinas not as archetypes, but as rich and profound human beings full of messy contradiction and ambivalence.


A poignant reintroduction to two beloved characters and their long-standing relationship.

This is an aching graphic novel about regret and growing older, and the ability — or inability — to confront the past.

Love and Rockets has created a community of misfits filled with as much anger as warmth, with as many mistakes as wisdom, and with as much sadness as joy. That full spectrum is embodied most beautifully in [protagonists] Maggie and Hopey, and Is This How You See Me? reinforces it perfectly.


While longtime fans will discover extra levels of joy and regret in this installment, even those who pick this up as their introduction to the series will be moved by its tale of growing older without necessarily growing up.

This book is full of innocence and experience, punk haircuts, middle-aged moshing, old movies, cigarettes and bruised hearts, all sketched out in black and white pen lines that throb with emotion and desire and anger and pain and resignation and acceptance.

Hernandez is beloved by fans for creating complex, strong women who drive the narratives of his 'Locas' stories. Is This How You See Me? is an ideal 'Locas' entry point.


A moving story about the lives of two longtime friends.

A must-read for even the most casual Love and Rockets fan.


A new volume of Love and Rockets, the best American comic book series of all time, is always good news.


Another transcendent contribution to the Love and Rockets canon.