Tonta (Love and Rockets) (Hardcover)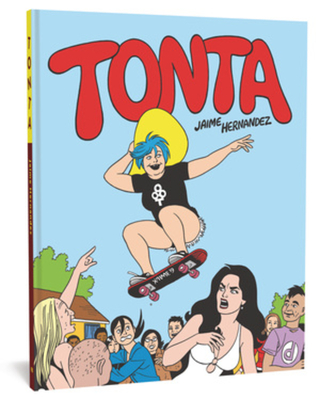 $19.99
In Stock—Click for Locations
Description
---
A standalone graphic novel that shines a light on the family tree of one of Hernandez's most memorable characters of the past several years, the teenager Tonta.
In this graphic novel, teenager Tonta is staying for the weekend with her half-sister, the self-absorbed Vivian. At home, Tonta's stepfather is shot during a botched burglary, which leads to the discovery of family secrets that require Tonta to confront some unpleasant truths that she previously managed to suppress or remain ignorant of. Through it all, Tonta showcases Hernandez's brilliant talent for character, weaving a host of characters and milieus from his vast arsenal. Meanwhile, back at school, Tonta and Gomez discover that Coach Angel harbors a secret of her own (can you say, "lucha libre?") while local punk band Ooot provides the soundtrack for a summer not soon to be forgotten.
About the Author
---
Jaime Hernandez is an internationally acclaimed, award-winning (Will Eisner Hall of Famer; Harvey, Ignatz, and PEN Award-winner; L.A. Times Book Prize) cartoonist and a lifelong Los Angelean.
Praise For…
---
Love and Rockets [is] the rare pop cultural artifact that renders Latinas not as archetypes, but as rich and profound human beings full of messy contradiction and ambivalence.


This rambunctious ride is a master class in cartooning.

[Jaime's work is] one of the finest bodies of fiction of the last 35 years.
— Neil Gaiman

A new volume of Love and Rockets, the best American comic book series of all time, is always good news.