The Flapper Queens: Women Cartoonists Of The Jazz Age (Hardcover)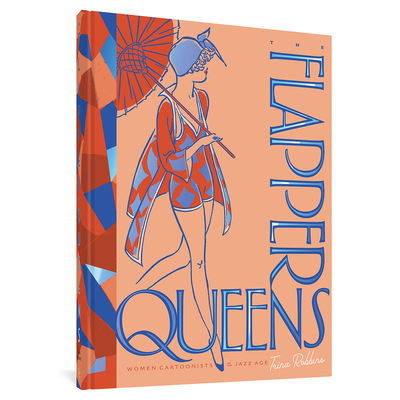 $34.99

In Stock—Click for Locations
Description
---
A celebration of the best women cartoonists of the Roaring Twenties, curated by Trina Robbins.
From the foremost historian of women cartoonists, Trina Robbins, comes an eye-catching collection of comic strips from the Roaring Twenties depicting the high-stepping "Flapper" — the symbol of women's newfound freedom — all drawn by the best female cartoonists of the era! Including Nell Brinkley, Ethel Hays, Eleanor Schorer, Edith Stevens — and possibly the flappiest of the Flapper Queens, Virginia Huget! This collection not only brings back into the spotlight several legendary women artists obscured by the sands of time but also celebrates an unabashedly feminist movement in our nation's history.
About the Author
---
Retired underground cartoonist and current comics historian Trina Robbins has been writing graphic novels, comics, and books for almost half a century. Her subjects have ranged from Wonder Woman and The Powerpuff Girls to her own teenage superheroine, GoGirl!, and from women cartoonists and superheroines to women who kill. She's won an Inkpot Award and was inducted in the Will Eisner Hall of Fame at the San Diego Comic-Con. She lives in a moldering, 100+-year-old house in San Francisco with her cats, shoes, and dust bunnies.
Praise For…
---
The award-winning comics historian brings the jazz age to vivid life in this showcase of six dazzling female cartoonists.
— The Guardian

Comics historian Trina Robbins pays homage to six women artists of the '20s and '30s in a lively, vividly illustrated celebration. A fresh, spirited look at a colorful cultural phenomenon.
— Kirkus

Women can draw anything. But in the 1920s, newspapers hired (and even sought out) female cartoonists to draw comic strips about flappers. In The Flapper Queens, herstorian Trina Robbins showcases six of those artists in a coffee table book. ... As a way of bringing more exposure to these artists, this book is tops.

— Comicon