childrens christmas coloring books by age 9 to 12: (5 Series) Christmas coloring books for children and schoolchildren. Decorate Santa Claus, a Christ (Paperback)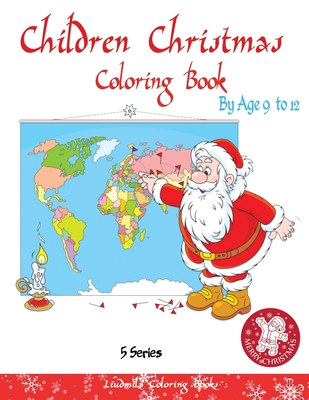 $5.99

Not On Our Shelves—Ships in 1-5 Days
(This book cannot be returned.)
Description
---
Gift Ideas for Christmas 2019 - 50 Fantastic Christmas Images
Start now a wonderful journey into the world of Christmas, you will meet Santa Claus, beautiful Christmas trees, very elegant sledges, pretty reindeers, colorful gift packages and much more. Have fun and learn to color with these fantastic Christmas pictures.
Express your great love for Christmas, have fun and learn to express your imagination with the images contained in this coloring book. This coloring book was made for those who love Christmas celebrations, both children and adults, not to mention that you can also write the letter to Santa Claus.
Imagine coloring Santa Claus with his sleigh guided by sweet reindeers, a Christmas tree full of gifts and colored lights, beautiful landscapes covered with soft snow. You will spend hours of fun with many colors and pretty images that represent Christmas.
This book is made of 50 simple, cute and funny pictures of Santa Claus, Reindeers, Snowmen, Christmas trees, Christmas decorations, Elves, Christmas Day celebrations, snow angels and much more. Each page has a lovely design and each image is placed on its own page to allow you to easily remove and frame your favorite artworks.
This Christmas coloring book is the PERFECT Christmas gift for someone you love.
For you, Parents:
Imagine your son's happy face when you give them this wonderful coloring book with 50 pages full of beautiful pictures. They will love it

Cute and fun coloring pages for your children's happiness
Large 8.5 "x 11" page size
Beautiful and unique designs, 50 unique images to express artistic creativity
Suitable for all levels of knowledge, whether you are a child or an adult
Single pages for each picture so that you can frame and detach them individually
Make a wonderful gift today.
You know a child who loves coloring?
Make them smile with this book.
You can even color with him too