Porta Potty Princess: How to Make an Extreme Career Change, from High Heels to Steel-Toed Boots (Hardcover)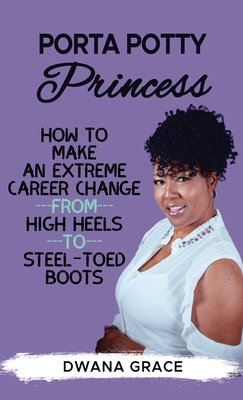 $24.95

Not On Our Shelves—Ships in 1-5 Days
(This book cannot be returned.)
Description
---
Find out how I drastically changed careers to achieve my goals and live the lifestyle I dreamed of. This guide will take you through the steps and show you how to do the same.
Do you want to change careers, do what you love most, and make a good living but aren't sure how? In Porta Potty Princess, I will show you that it is very possible as long as you follow my lead.
Everyone wants to be the best version of themselves. I believe that we all have what it takes to make a successful change and transition into a professional career that we are passionate about and ultimately deserve.
It's time for you to make that change and lift your head up high and stop hiding behind the shame of past failures. By reading Porta Potty Princess, you will finally be in the driver's seat and in total control of your career destination.
You can now be paid your worth and be able to financially impact the lives of those who are close and dear to you. The best part is, you will get to live the lifestyle you have always dreamed of while doing exactly what you love.
By reading this book you will learn:
How to put your career change in motion
The transition phases that are part of the process
The importance of networking and interconnections
How to set your standards and be the change
And much more...
Porta Potty Princess is my true story of extreme career change, an inspirational account of my journey to drastically change careers. Throughout the book, I provide plenty of pointers and tips for readers who would like to follow in my footsteps and be the change they have always envisioned. These little pearls of wisdom will help put you on the correct path to successful career changes in any industry.
Order your copy now and start the change today