Toward Freedom: The Case Against Race Reductionism (Paperback)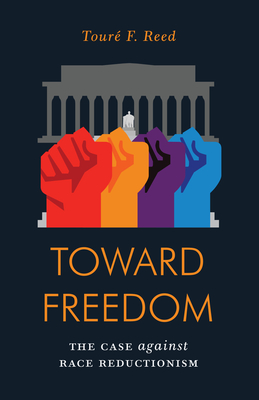 $19.95

Not On Our Shelves—Ships in 1-5 Days
Description
---
The fate of poor and working-class African Americans-who are unquestionably represented among neoliberalism's victims-is inextricably linked to that of other poor and working-class Americans

Reed contends that the road to a more just society for African Americans and everyone else is obstructed, in part, by a discourse that equates entrepreneurialism with freedom and independence. This, ultimately, insists on divorcing race and class. In the age of runaway inequality and Black Lives Matter, there is an emerging consensus that our society has failed to redress racial disparities. The culprit, however, is not the sway of a metaphysical racism or the modern survival of a primordial tribalism. Instead, it can be traced to far more comprehensible forces, such as the contradictions in access to New Deal era welfare programs, the blinders imposed by the Cold War, and Ronald Reagan's neoliberal assault on the half-century long Keynesian consensus.
About the Author
---
Toure F. Reed teaches twentieth-century US and Afro-American history at Illinois State University, and is the author of Not Alms But Opportunity: The Urban League and the Politics of Racial Uplift, 1910-1950 (UNC Press, 2008). He is a fourth generation African American educator and a third generation professor.
Praise For…
---
"A must-read for scholars and activists. Reed argues that Afro-Americans' quest for freedom has been most successful when a common-good, rather than identity-group, strategy has determined tactics and alliances. He pin-points deindustrialization and the decline of labor unions as the chief
reasons for the current predicament of Afro-American working people, while warning against the latest neoliberal market prescription: reparations."
—Barbara J. Fields, author (with Karen E. Fields) of Racecraft

"Touré Reed is the most brilliant historian of the black freedom movement of his generation. This book is the best grasp of our recent past and guide for a progressive future we have!"
—Cornel West, author of Race Matters

"A strong tonic against the historical distortions and defeatism that have accompanied the revival of liberal antiracism. Reed reminds us that black civil rights leaders during the Depression and Second World War saw the fight against segregation as inextricable from the broader struggle for worker power. There is simply no better tour guide out of the dead ends of race reductionism."
—Cedric Johnson, author of Revolutionaries to Race Leaders

"At a moment when liberals and leftists are stuck in a never-ending argument over the primacy of race or class, Toward Freedom offers a way forward. A triumph of historical vision and craft."
—Corey Robin, author of The Reactionary Mind

"A motivating account of the ubiquitous race reductionism among neoliberals today that continues to derail serious efforts to rebuild America's public sector, and along with it, the lives and prospects of working-class people."
—Heather Gautney, Senior Policy Advisor to Sen. Bernie Sanders, Fordham University

"Reed's brilliantly argued and accessible book does not just marshal an impressive array of historical evidence in building the brief against race reductionism. It offers a most timely analytical intervention that can give us much needed perspective on the Sanders primary debacle of 2020. "
—Roger Lancaster, New Labor Forum

"A forceful critique of race reductionism."
—Preston H. Smith II, Catalyst

"An intricate account of the conservative drift in liberal thinking and policy from the Great Depression to the current moment. Throughout, Reed examines how antiracist demands were continuously isolated from broader demands for economic reforms that would coalesce the interests of working-class Americans to endanger capital."
—J.J. Charlesworth, ArtReview

"Reed's study provides a compelling explanation for why successive governments have failed to address a durable racial inequality in the late 20th and 21st century."
—Journal of Urban Affairs