Shark (Animal) (Paperback)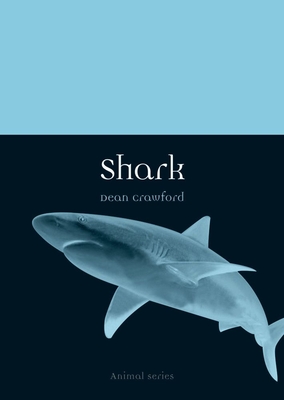 $19.95

Special Order—Subject to Availability
Description
---
A sleek hunter of the seas, the shark has struck fear into the hearts of men since the days of the first fishermen. Dean Crawford now explores here the long relationship between shark and man, revealing that behind the fearsome caricature is a complex animal that deserves a thoughtful reconsideration.
With a lineage stretching back over 100 million years, the shark has evolved into 350 different species, from the great white to the pike-bearing goblin to the tiny cookie-cutter. Crawford compiles here a fascinating narrative that analyzes how and why the animal looms large in our cultural psyche. While sharks have played a prominent part in religion and mythology, they are more commonly perceived as deadly predators—in such films as Jaws and Dr. No—or as symbols of natural violence, as in Hemingway's Islands in the Stream. Shark ultimately argues, however, that our ill-informed emotional responses, spurred by such representations, have encouraged the wholesale slaughter of sharks—and our ignorance endangers the very existence of the shark today.
Both a celebration of their lethal beauty and plea for their conservation, Shark urges us to shed our fears and appreciate the magnificence of this majestic animal.
About the Author
---
Dean Crawford is visiting associate professor of English at Vassar College and is also the author of The Lay of the Land.
Praise For…
---
"Crawford explains well the variety (454 species) and wondrous biology of sharks (the great white has electrical sensors that can detect a heartbeat); traces sharks nicely through myth and fiction, holding in view Moby-Dick, Jaws and the novels of Hemingway; and outlines the politics of aquaria and shark-fin soup. . . . The pictures are breathtaking, too."
— Guardian
"Shark
is a completely perfect book about sharks — ogle that elegant cover and unadorned title, both as sleek as their subject — limpidly written by Dean Crawford and speckled with striking photos and artwork."
— Chris Garcia
"A beautiful book about sharks? Yes, Shark, by Dean Crawford is one of a series of gorgeous, small format animal tomes by British publisher Reaktion Books. This 150-page shark primer has lovely color plates on almost every page of art-quality stock, and the writing is good, too. . . Crawford's the Alan Dershowitz of the finny deep. I loved this book."
— Alex Beam
"Rigorously researched and scholarly, yet highly accessible and entertaining,
Shark
urges us to see the incredibly sophisticated animal behind the terrifying caricature that society has created."
— Tri-City News