El Béisbol Nos Salvó: Edición Especial 25° Aniversario (Paperback)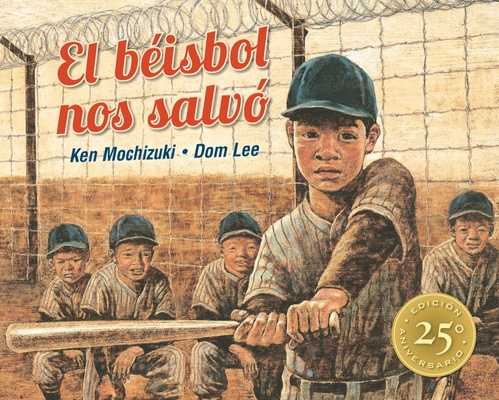 $10.95

Special Order—Subject to Availability
Description
---
40 Books about Sports, Cooperative Children's Book Center (CCBC)
50 Multicultural Books Every Child Should Know, Cooperative Children's Book Center (CCBC)
Books to Read with Children of All Ages, Bank Street College of Education
Choices, Cooperative Children's Book Center (CCBC)
Pick of the List, American Bookseller's Association
Recommended Title, New York Public Library
Now in Spanish, this classic, award-winning picture book tells the story of Shorty and his family, placed in an internment camp after the attack on Pearl Harbor along with thousands of Japanese Americans.
The groundbreaking children's book about the Japanese American concentration camp experience during World War II.
After the Japanese attack on Pearl Harbor, Shorty and his family, along with thousands of other Japanese Americans, have been forced to relocate from their home to Camp. One day Shorty's dad looks out across the desert and decides they should build a baseball field. Fighting the heat, dust, and freezing cold nights, the prisoners need something to look forward to, even if only for nine innings. So in this unlikely place, surrounded by barbed-wire fences and guards in towers, a baseball league is born. And Shorty soon finds that he is playing not only to win, but to gain dignity and self-respect.
Inspired by a long-hidden and shameful part of America's past, and the people who triumphed over it, this modern classic remains a moving story of hope, courage, and endurance.
Translated from Baseball Saved Us, El b isbol nos salv is the ultimate rite of passage story. It will appeal again and again to readers who enjoy cheering for the underdog.
About the Author
---
KEN MOCHIZUKI is a writer, journalist, and former actor who made his picture-book debut with Baseball Saved Us. He is also the author of several other award-winning picture books published by Lee & Low, including Passage to Freedom and Heroes. Mochizuki lives in Maple Valley, Washington. His website is kenmochizuki.com. DOM LEE made his picture-book debut with Baseball Saved Us. He grew up in Seoul, South Korea, and went on to illustrate books in both the United States and Korea. His titles for Lee & Low include Ken Mochizuki's Passage to Freedom and Heroes, as well as the award-winning Sixteen Years in Sixteen Seconds. Lee's unique illustration style involves applying encaustic beeswax on paper, then scratching out images, and finally coloring the images with oil paint. Lee and his wife live in Hollis, New York.