Bass, Mids, Tops: An Oral History of Sound System Culture (Paperback)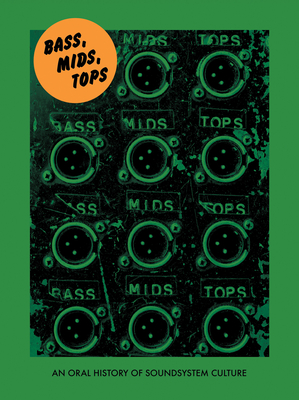 $29.95
In Stock—Click for Locations
Description
---
An oral history of the UK's soundsystem culture, featuring interviews with Dubmaster Dennis Bovell, Skream, Youth, Norman Jay MBE, Adrian Sherwood, Mala, and others.
In the years following the arrival of the Windrush generation, the UK's soundsystem culture would become the most important influence on contemporary pop music since rock and roll. Pumped through towering, home-built speakers, often directly onto the thronged streets of events like the Notting Hill Carnival, the pulsating bass lines of reggae, dub, rave, jungle, trip hop, dubstep, and grime have shaped the worlds of several generations of British youth culture but have often been overlooked by historians obsessed with swinging London, punk, and Britpop.
This oral history, consisting of new interviews conducted by respected dance music writer Joe Muggs, and accompanied by dramatic portraits by Brian David Stevens, presents the story of the bassline of Britain, in the words of those who lived and shaped it. Features interviews with Dubmaster Dennis Bovell, Norman Jay MPE, Youth, Adrian Sherwood, Skream, Rinse FM's Sarah Lockhart and many others.
About the Author
---
Joe Muggs has been a fixture in underground music for quarter of a century as a DJ, promoter, and most notably as a journalist for the Guardian, the Telegraph, FACT, Mixmag, and the Wire. Brian David Stevens is a photographer based in London, who has worked extensively in documentary and portrait work as well as art photography. His Notting Hill Soundsystems print series--showing the soundsystems as architectural forms in their own right-- has been particularly popular.